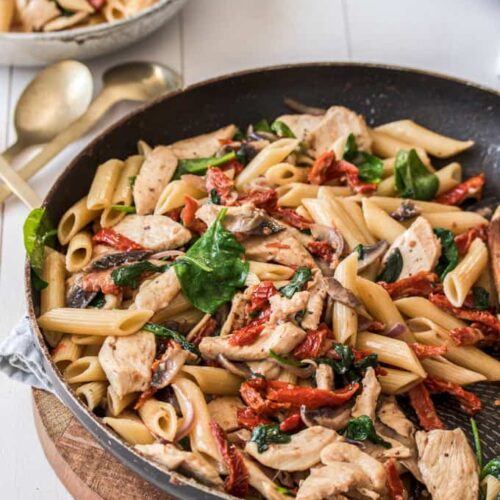 This is so easy and so good! Hope you give it a try and enjoy it as much as we did. 🙂
Ingredients
8 ounces whole wheat penne pasta
1/4 cup sun dried tomatoes (not packed in oil)
1/2 cup boiling water
1 pound boneless, skinless chicken breasts, cut into 1-inch pieces
1/4 teaspoon garlic salt
2 tablespoons all-purpose flour
4 teaspoons olive oil, divided
1 1/2 cups sliced fresh mushrooms, rinsed (optional)
3 teaspoons minced garlic
1/2 cup reduced sodium chicken bone broth
1/4 cup minced fresh parsley
1/4 teaspoon dried basil
1/4 teaspoon salt
fresh cracked pepper
1/8 teaspoon red pepper flakes
1/4 cup grated Parmesan cheese
Directions
Cook pasta in salted water according to package directions. Drain and set to the side.
In a small bowl, add sundried tomatoes and a ladle full of boiling pasta water. Let stand 5 minutes. Drain; chop tomatoes.
In medium bowl or Ziploc, season chicken pieces with garlic salt; add flour and toss to coat. In a large skillet, heat 2 teaspoons olive oil over medium-high heat. Add chicken; cook and stir about 5 minutes or until slightly browned and cooked through. Remove from pan to a small plate or bowl.
In same skillet, heat remaining 2 teaspoons oil over medium-high heat. Add mushrooms and garlic; cook and stir until tender. Add broth, parsley, seasonings, and chopped sundried tomatoes. Bring to a boil. Stir in chicken and heat through on medium heat.
Stir in drained pasta with chicken mixture. Sprinkle with parmesan cheese and toss to coat.