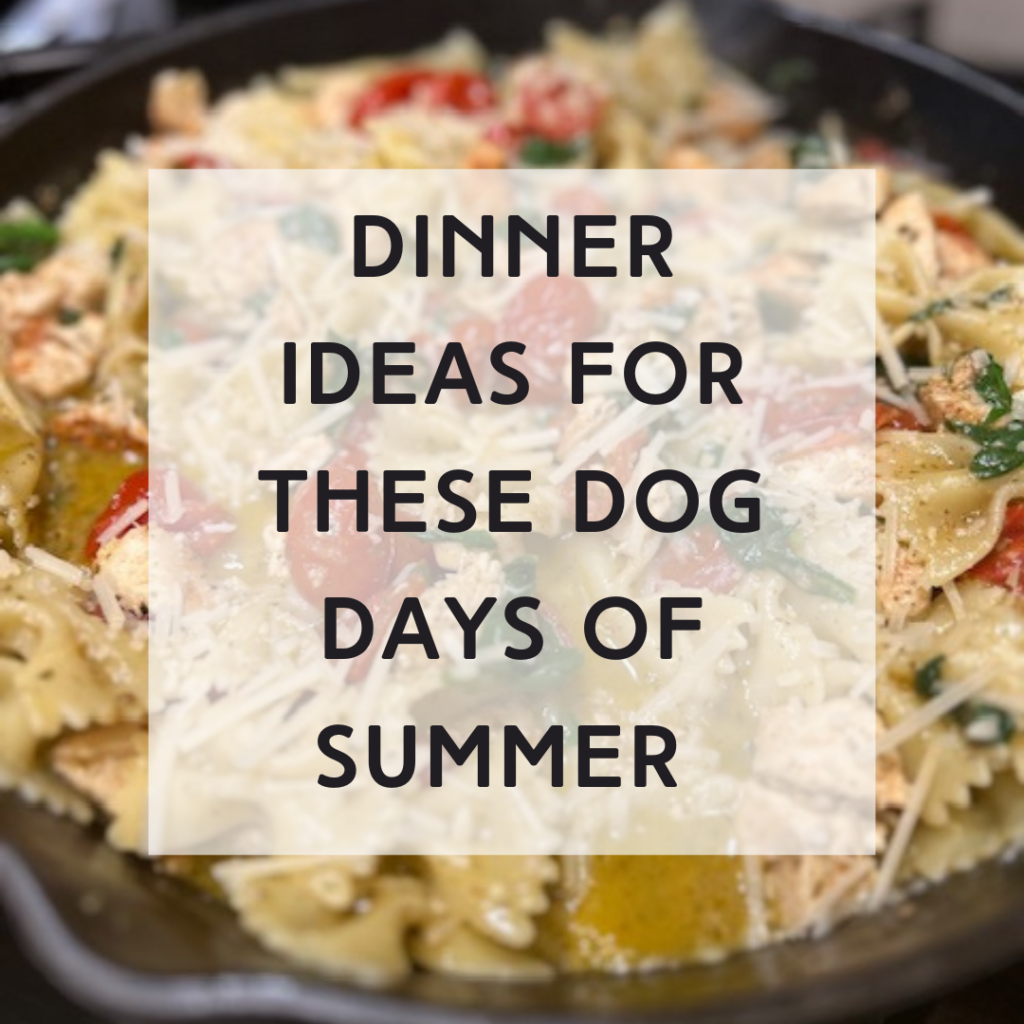 It's hot!! Fall may be right around the corner and the kids have gone back to school, but the Summer hot weather is in full force. While I love to cook and eat home prepped meals, when it's hot as blue blazes it is hard for me to get motivated to get in the kitchen. 
Maybe you can relate? The heat tends to zap my appetite too and my preferences definitely lean towards crisp, fresh, crunchy, vibrant foods and flavors. 
Here are a few ideas for dinners that come together quickly, give off summer vibes, and are super tasty. 
Blackened Shrimp Bowls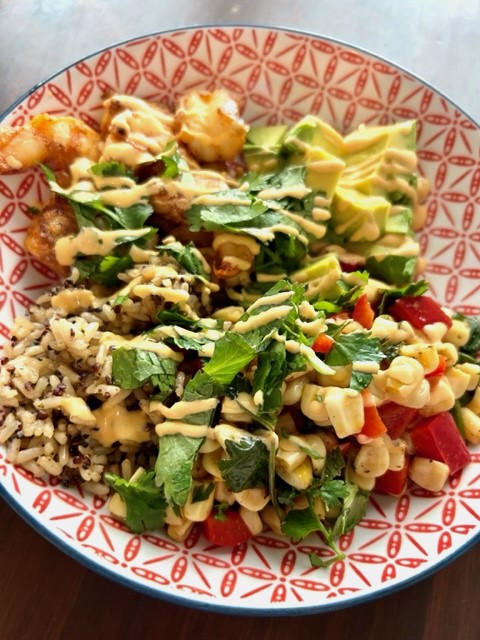 Fresh and tangy blackened shrimp bowls with sweet red pepper & corn salad, avocado, served over easy to prepare quinoa and brown rice and topped with a drizzle of Buffalo Ranch sauce. Couldn't be much easier and so yummy!
These bowls come together in minutes and are full of flavor. To make this bowl even easier, you could pick up pre-ordered steamed shrimp from either Publix or here in Tallahassee, at Southern Seafood. Just call ahead and pick them up on your way home.
Ingredients
1 pound (+) shrimp, peeled and deveined
1 teaspoon cumin
1/2 teaspoon paprika
3/4 teaspoon garlic powder
1/2 teaspoon onion powder
1/2 teaspoon kosher salt
Freshly ground black pepper
4 teaspoons olive oil, divided
1 c. frozen corn
1 red pepper, diced
2 tbsp. freshly chopped cilantro, plus more for garnish
Juice of 1 lime, divided
1 avocado, thinly sliced
Directions
Mix together spices: cumin, paprika, garlic powder, onion powder, salt, and pepper.
Place shrimp in a medium bowl, toss with half of spice mixture.
In a large cast iron skillet over medium-high heat, heat 2 teaspoons olive oil. Add shrimp and cook until opaque and charred, cooking about 3-4 minutes on each side. Remove shrimp from pan. 
Add corn to skillet along with other half of spice mixture. Sauté for about 5 minutes, scraping up bits from bottom of skillet. 
Make corn salad: in a medium bowl combine corn, diced pepper, and cilantro. Add 2 teaspoons olive oil, juice of half a lime. Season with salt and pepper to taste.
Build bowls: Spoon rice into 4 bowls. Top with shrimp, corn salad, and 1/4 avocado each. Garnish with cilantro, squeeze with lime and serve. 
Notes:
I say 1 pound PLUS of shrimp because it is super tasty and you might want more than just a 1/4 pound per serving. 🙂
You can serve this over any kind of rice. I served it over Seeds of Change Quinoa and Brown Rice. It cooks in the microwave in 90 seconds. Available at Publix or Costco. Each pouch has about 2 servings in our house.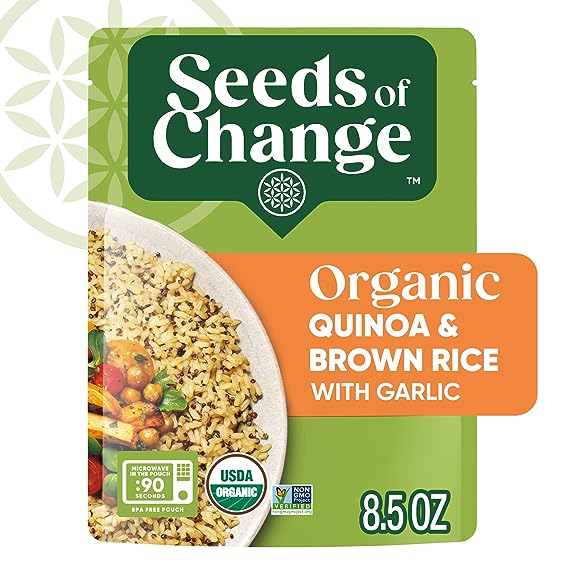 I like to top it with a drizzle of one of my favorite sauces, Terrapin Ridge Farms Buffalo Ranch, available at Fresh Market.
Creamy Summer Pesto Pasta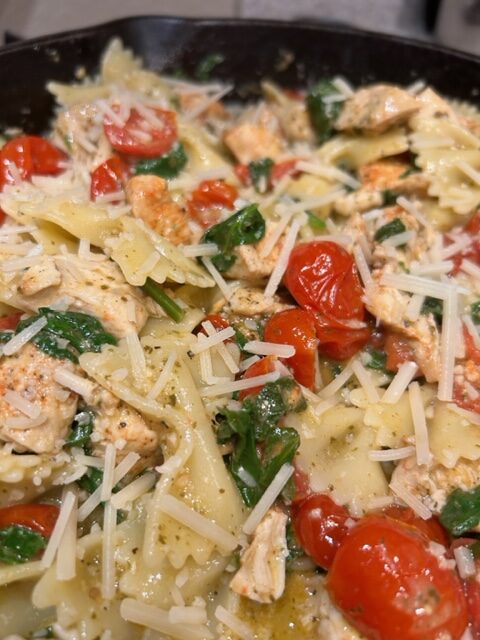 Summer Pesto Pasta, made with garlicky broiled tomatoes, pasta, tender seasoned chicken, pesto, spinach, and parm. Like Summer on a plate!
Ingredients
Roasted Tomatoes
10 oz cherry tomatoes (sliced in half)
2 teaspoons olive oil
3 teaspoons garlic, minced
Chicken Pesto Pasta
2 teaspoons olive oil
1.5 pounds chicken breast or tenders, cut into bite size pieces
1/2 teaspoon salt
1 teaspoon black pepper
1/4 teaspoon paprika
8 oz pasta (bow-tie, penne, or fusilli)
3.5-ounce jar pesto (I buy Alessi brand)
3/4 cup unsweetened coconut milk, (shake in can before opening)
2 cups baby spinach, chopped
¼ cup pine nuts (optional)
Directions
Preheat oven to 400 F. Toss cherry tomatoes, sliced in half, with 2 teaspoons of olive oil and minced garlic. Spread in a medium size sheet pan. Roast for about 20 minutes.
Bring a pot of water to boil. Cook pasta, in well salted water, according to package instructions. 
Season chicken with salt, pepper, and paprika. Heat 2 tablespoons of olive oil on medium-high heat in a large skillet (cast iron if you have one) until hot. Add chicken and cook for about 5 minutes per each side until it's browned and cooked through. Remove chicken to a plate.
Add basil pesto and coconut milk to the same skillet used to sear chicken. Stir gently and bring to simmer.  
Add in 2 cups chopped baby spinach and cover with lid to let wilt.
Remove lid and stir in cooked chicken, pasta, and roasted tomatoes. Stir to thoroughly combine. Top with pine nuts (optional).
Season with extra salt and pepper or add crushed red pepper flakes, if desired.
Note: Want to skip cooking the chicken? You could always use rotisserie chicken and add it in in the last step. 
Loaded DIY Salad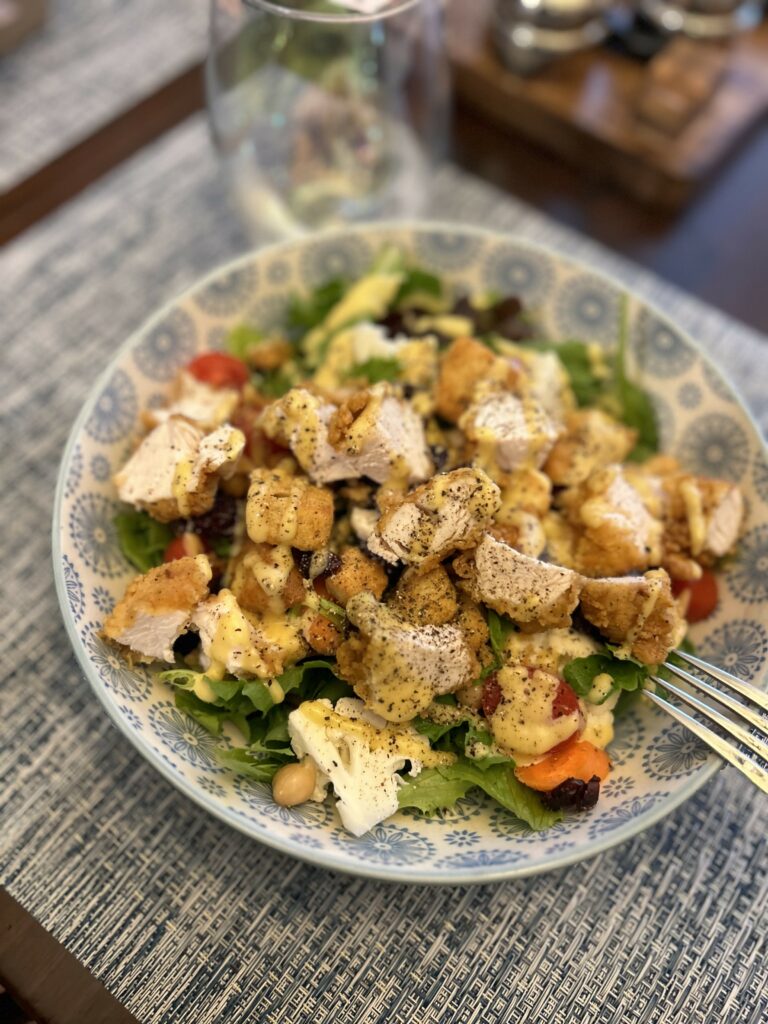 A crisp and crunchy salad made with fresh mixed greens, grape tomatoes, cauliflower, carrots, garbanzo beans, and carrots with honey mustard dressing.
We've been having this about once a week lately. It is less a recipe and more putting together your favorite, most satisfying ingredients in a salad, because a plain old bowl of lettuce does not a satisfying salad make.
As a template for creating satisfying salads try to cover all the macronutrient bases – including carbs, protein, and fats, plus include interesting and appetizing colors and textures, such as chewy and crunchy. Check out my blog How to Build a More Satisfying Salad for more salad ingredient ideas. 
Ours is pretty simple and typically includes mixed greens, halved grape tomatoes, chopped up baby carrots, garbanzo beans, Craisins for a little sweet chewiness and then topped with vinaigrette, or honey mustard depending on my mood.
More "No Recipe Required " Dinner Options
These are a few other easy, come together quick options…
Black bean quesadillas – whole grain wraps with black beans paired with spinach, feta and thinly sliced onions or alternatively try pairing black beans with cheddar, diced red peppers and corn kernels. Serve with salsa and guacamole and a drizzle of the Buffalo Ranch sauce.
Breakfast for dinner – anything goes here. Some options…good ole scrambled or fried eggs with toast and fruit, a breakfast sandwich on whole grain bread, or a frittata or quiche with a side salad. 
Refrigerated tortellini with red sauce and a bagged side salad. 
Chicken, turkey, or fish burgers on a whole wheat bun or English muffin topped with avocado and tomato with a side of potato wedges or (one of our favorites) mini tater tots. 
Dinner doesn't have to be complicated or fussy. Life is complicated enough, no need to add any of that to dinnertime. Hope these give you some options to add to your "What's for Dinner?" library.