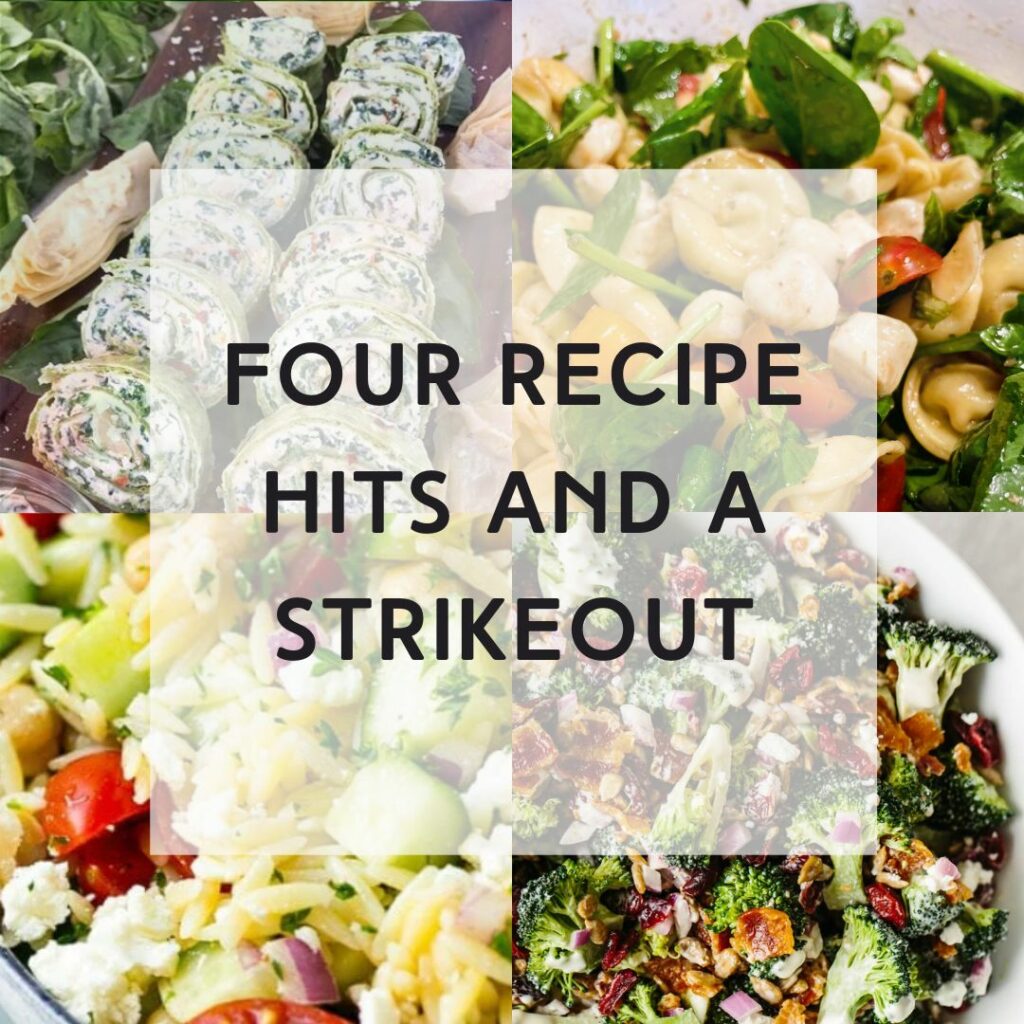 I've been cooking for a long time. I grew up around wonderful cooks. I think it's in my DNA. I love perusing recipes, trying them out and making them my own. I love the feeling of accomplishment that comes from putting ingredients together to create something delicious and making food for people I care about.
I've gotten pretty good at finding recipes and reading reviews to determine if they are any good before trying them. It is rare that I make something that isn't at least pretty good. I was not so lucky with a recent new recipe I found.
The Strikeout
Lately I have been craving easy summer recipes. I want food that is super easy, doesn't have a ton of ingredients, AND tastes good. So, when I received an email with the subject "25 Easy Summer Salads" I had to check it out. One that caught my eye was called "Summer Salad by the Lake." It sounded like an interesting combo of some of my favorite ingredients, ones I wouldn't think to put all in one bowl, and it got a few good reviews. So, I went for it. It had roasted peppers and garlic, couscous, quinoa, tomatoes, pineapple, sunflower seeds, parsley, feta and spinach with a balsamic vinaigrette. Quite the assortment.
Well…those ingredients while all good on their own were NOT a hit in combination. My husband is pretty easy to please and enjoys most everything I make. He was not feeling this one! He had himself in stitches saying, "yeah that's a lake salad…it's all the stuff you have leftover in the fridge at the end of a week at the lake, you put it all in a bowl and throw it in the lake!" I have to agree. We will not be making that one again and I won't be sharing it here. You're welcome! 🙂
You Win Some, You Lose Some (Even in the Kitchen)
Going through the effort of making something that doesn't turn out stinks. It's frustrating to put time and effort into something that doesn't meet expectations. It happens though. Sometimes things just don't come out the way we hoped in the kitchen, no matter if you are a beginner cook or a more seasoned one. That's just part of cooking and the risk you take.
I think a fear of failure or putting a lot of effort into something that doesn't turn out perfectly often keeps people from branching out and trying new recipes. I see a lot with clients how perfectionism rears its ugly head in regard to food and our bodies and ultimately limits us. This perfectionism also shows up in the kitchen and with cooking. I think we are better off expecting it's going to happen from time to time. It is just the normal nature of cooking. But the more you cook and gain comfort in the kitchen, the more likely you are to create hits instead of strikeouts.
On to the Hits
We recently threw a graduation party for our daughter who just graduated from high school (not sure how that happened so quickly
.)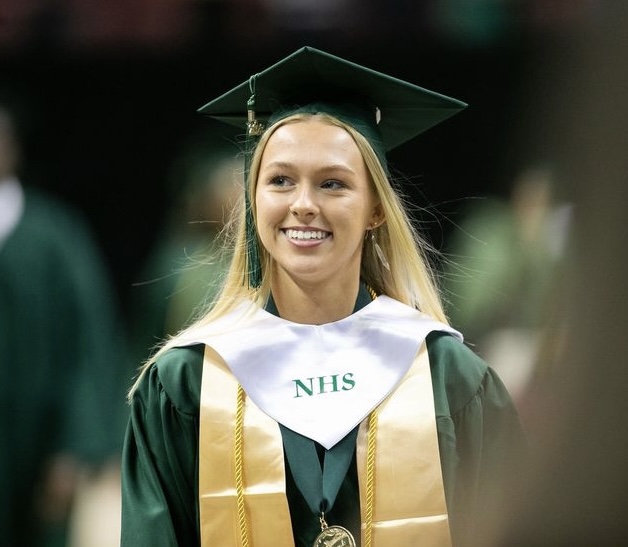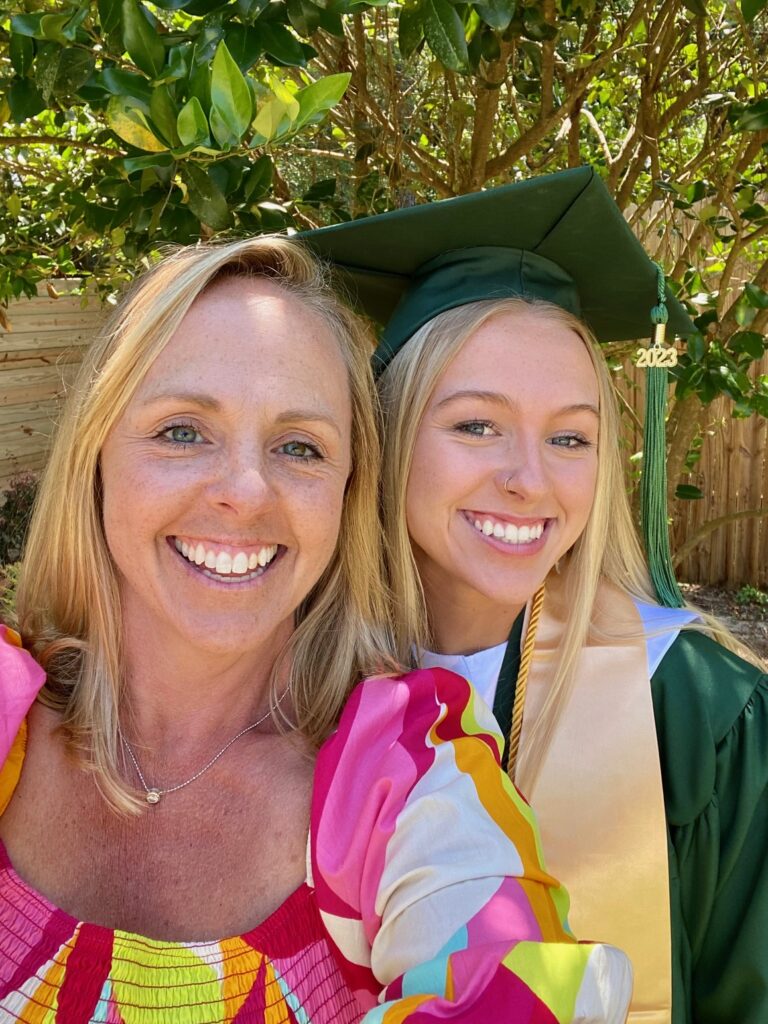 In planning the food, I knew I wanted something that could be made in advance so I wouldn't have to do it all the day of. My husband was planning to smoke some meat (with the help of our neighbor) to make BBQ pulled pork sammies and my Mom was making mac and cheese. I was in charge of other sides and apps and I chose four.
I made my Tortellini Caprese Salad I shared in a recent blog and if you haven't tried that one yet, it is definitely a winner! It is perfect for summer with tomatoes, mozzarella, some greens, and easy peasy frozen tortellini with a super yummy balsamic dressing that pulls it all together. Definitely check that one out.
The three below were the other ones I chose, and they were a huge hit and got rave reviews.
Spinach Artichoke Pinwheels
Creamy, delicious spinach and artichoke dip rolled into bite sized pinwheels. These could be an app or they could be part of a lunch or dinner meal. Seriously so good!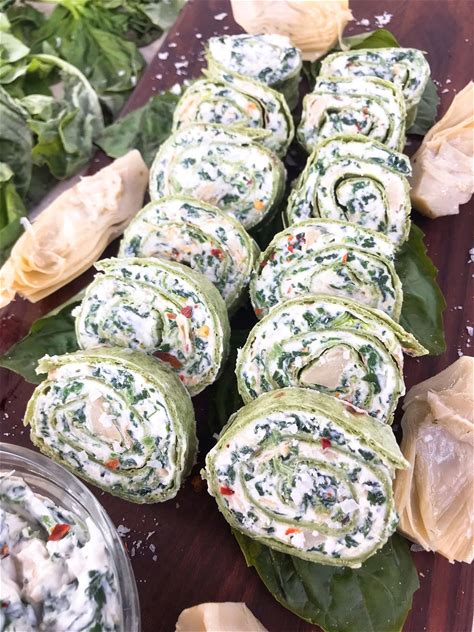 Ingredients
1 package cream cheese softened (8 oz)
¼ cup mayonnaise
¼ cup sour cream
¼ cup parmesan cheese shredded
1 packet dry vegetable soup mix
3 green onions, chopped
1 package frozen chopped spinach thawed, drained, & squeezed dry (10 ounces) (*see tip below*)
1 13-14 ounce can artichoke hearts water packed, roughly chopped
1 package tortillas (I used the green spinach and herb ones!)
Instructions
By hand or using a mixer, mix together softened cream cheese, mayonnaise and sour cream until fluffy.
Stir in remaining ingredients.
Divide the filling equally over 6 tortillas and spread evenly leaving a 1? border.
Gently roll each tortilla jelly roll style. Wrap each roll in plastic wrap and refrigerate up to 24 hours.
Once chilled, cut each roll into 6-8 slices.
*Tip to thaw and drain frozen spinach: Thaw in microwave for 2-3 minutes, remove and place in clean kitchen towel, wring to squeeze liquid out over kitchen sink.
Lemony Greek Orzo Salad
This fresh Greek inspired orzo salad is made with cucumbers, chickpeas, tomatoes, red onion, feta and herbs, all tossed in a flavorful lemon herb dressing. It is a simple salad that can be served as a main course or side dish. It would be great alongside some grilled fish or chicken.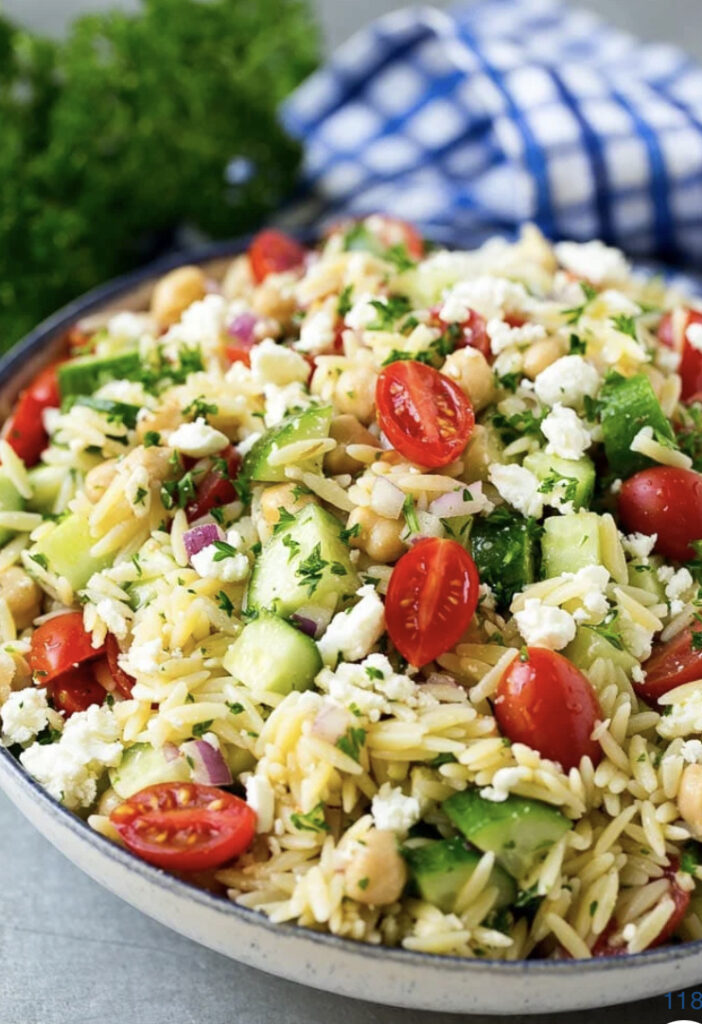 Ingredients
8 ounces whole wheat orzo pasta, cooked in salted water according to package directions, then cooled
1 1/2 cups cucumber diced
1 cup cherry tomatoes halved
1 cup chickpeas
1/4 cup minced red onion
1/2 cup feta cheese crumbled
1/4 cup chopped fresh parsley
6 tablespoons olive oil
1 tablespoon lemon juice
1 tablespoon red wine vinegar
1 teaspoon Dijon mustard
1/4 teaspoon garlic powder
1/4 teaspoon dried oregano
salt and pepper to taste (start with a 1/2 teaspoon of each and add more if desired after tasting)
Instructions
Place the cooled orzo pasta, cucumber, cherry tomatoes, chickpeas, red onion, parsley and feta cheese in a large bowl.
In a small bowl, whisk together the olive oil, lemon juice, red wine vinegar, Dijon mustard, garlic powder, oregano and salt and pepper.
Pour the dressing over the pasta mixture. Toss to coat. Let sit for 30 minutes or so to let the flavors blend. Enjoy!
Broccoli Salad
This easy to make broccoli salad is crunchy, fresh, and full of flavor, as well as nutrition. Fresh broccoli is combined with a few other ingredients and tossed in a simple & creamy homemade dressing. If you are taking it to a gathering, you better get some quick because it will be gone!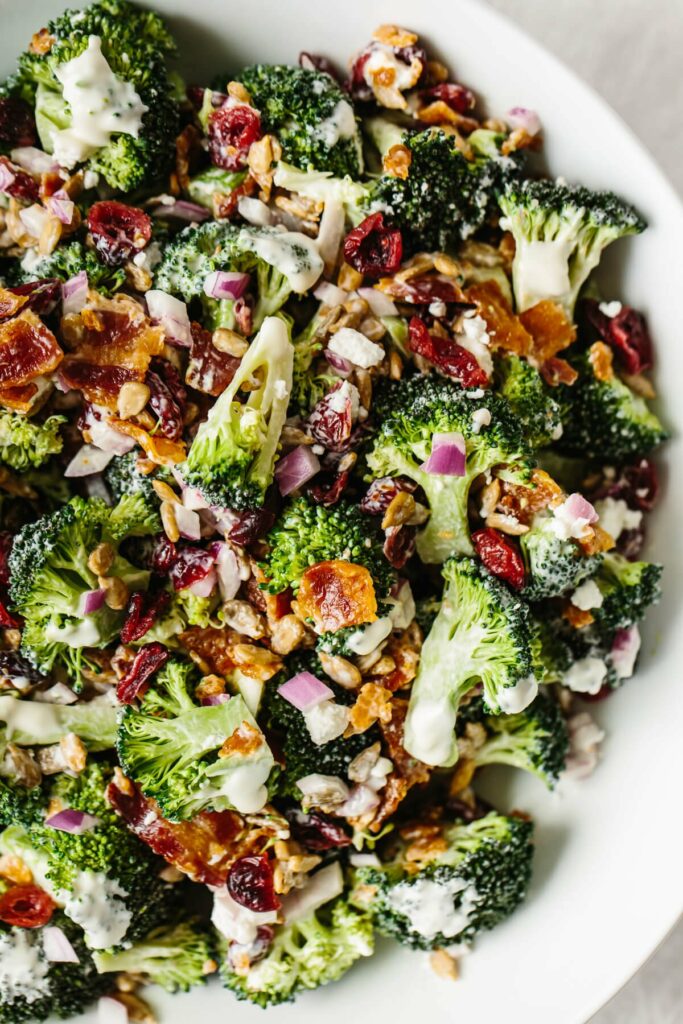 Ingredients
4 cups broccoli cut into bite-sized pieces
1/4 cup red onion, diced
1/4 cup dried cranberries
¼ cup sunflower seeds
4 slices bacon, cooked until crispy and crumbled or chopped
Dressing
1/2 cup mayonnaise
1 1/2 tablespoons cider vinegar
1 tablespoons sugar
salt & pepper to taste
Instructions
Whisk together dressing ingredients in a medium bowl. Set aside.
In a large bowl, combine broccoli, onion, cranberries, sunflower seeds, and crumbled bacon. Pour the prepared dressing over and mix well.
Refrigerate for at least one hour before serving.
Happy Summer cooking…and eating! Hope you enjoy these as much as we did!