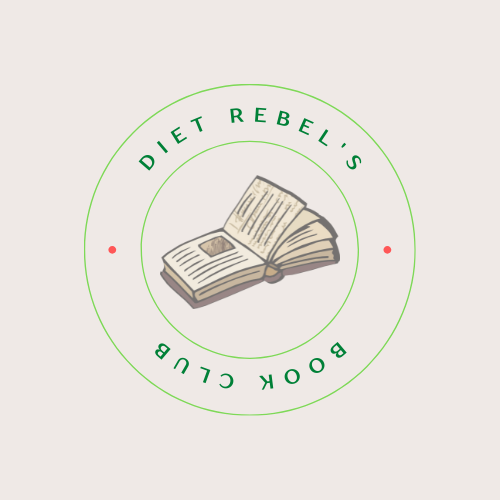 Ever bought a book about health and wellness and instead of reading it it just sat and collected dust?
I hear this often from people who are interested in Intuitive Eating and exploring the non-diet approach. They buy the book, maybe the true original by Tribole and Resch " a wonderful resource by the creators of Intuitive Eating, they get a little way in but then somehow life gets in the way, and it doesn't get finished.
If this is you too, you are not alone. Even with the very best of intentions it is so common for this to happen.
No matter how intrigued and ready we are to learn more and embrace these concepts, that after years of struggling with food finally make so much sense, we just can't seem to make it past the first chapter.
This is why I've started my Diet Rebel's Book Club & Support Community!
What it is-
The Diet Rebel's Book Club is a small group led by me for people just like you who want to embrace and learn how to practically apply the concepts of Intuitive Eating and this non-diet perspective and learn how to care for yourself and let go of dieting and restriction.
It is a judgement-free place to come to learn and listen and share your own, and hear others', experiences while you navigate this journey of letting go of diets and figuring out what to do instead.
It is an opportunity to be in community and walk alongside others who like you are interested in learning more about this different, more peaceful and rewarding, way of considering food and your body.
How it works-
I periodically choose one of the many wonderful non-diet books to read through and then meet once a month to discuss it in a small group. We will spend time talking about key points, answering questions that come up and discussing what it looks like to practically apply these non-diet concepts in real-life.
Our next reading adventure-
Unapologetic Eating

 by Alissa Rumsey

The next Diet Rebel's Book Club choice, Unapologetic Eating, Make Peace with Food and Transform Your Life will be starting April 14th, 2022.

**Special Bonus**: the author Alissa has offered a signed bookplate plus a Q & A session with her, exclusively for our group!
Reading this book and talking through it with a small group each month will give you the opportunity to:
explore your history with food and your body and question societal expectations
say goodbye to the constraints of dieting
begin to let go of food and body guilt and shame
reconnect with your body
better understand your relationship with food
relearn how to nourish yourself physically, mentally, and emotionally
make peace with food
improve your body image
trust your intuition
reclaim the space to eat and live unapologetically
heal and change your perception to build back trust with your body
use the reflection questions, prompts, and other helpful exercises to practically apply the concepts personally in your life
All the Details-
What to Expect
8 monthly live interactive small groups led by me, a Certified Intuitive Eating Counselor
We'll take it just a couple of chapters at a time giving you plenty of time and space to read and think through these concepts that are a new way of thinking for so many
Support throughout with weekly email thoughts for the week
The author, Alissa, has offered a signed bookplate plus a Q & A session with her exclusively for our group! (Date to be decided.)
You'll need to purchase a copy of Unapologetic Eating (if you are in Tallahassee, it is available at the Midtown Reader bookstore for 10% off when you mention this group).
When
Zoom meet once a month for 8 months, every 2nd Thursday from 5:30 to 7:00(ish) starting April 14th
April 14th: Intro, Chapter 1 It's Not About the Food, and Chapter 2 Your Brain on Diets
May 12th: Chapter 3 The Truth About Health, Nutrition, and Weight and Chapter 4 Diet Culture is Insidious
June 9th: Chapter 5 Exploring Your History with Food and Your Body and Chapter 6 Cultivating Awareness and Mindfulness
July 14th: Chapter 7 If Not Dieting, Then What? and Chapter 8 How to Honor Your Inner Wisdom
August 11th: Chapter 9 Moving from Scarcity to Abundance and Chapter 10 Self-Care and Sitting with It
September 8th: Chapter 11 The Power of Self-Compassion and Chapter 12 Honor and Respect Your Body
October 13th: Chapter 13 Redefining Your Relationship with Your Body and Chapter 14 Self-Exploration and Self-Discovery
November 10th: Chapter 15 Becoming Embodied and Chapter 16 Embracing Your Power and Wrap Up
Cost
$249
Payment options:
PayPal using my email
Venmo @ Anna-Jones-213
Secure credit card payment via Stripe checkout
How to Sign Up
Just shoot me an email and let me know you are interested. Your payment and email to me saves your spot!
Only 10 spots available. We're starting soon. Come join us!
Don't miss this opportunity to be in community with others and learn about Intuitive Eating and finding peace around food and your body. If you have spent years, maybe even decades, trying to fix yourself and your body in order to fit into a mold or a socially acceptable ideal and are feeling like there has to be another way, this group is for you!