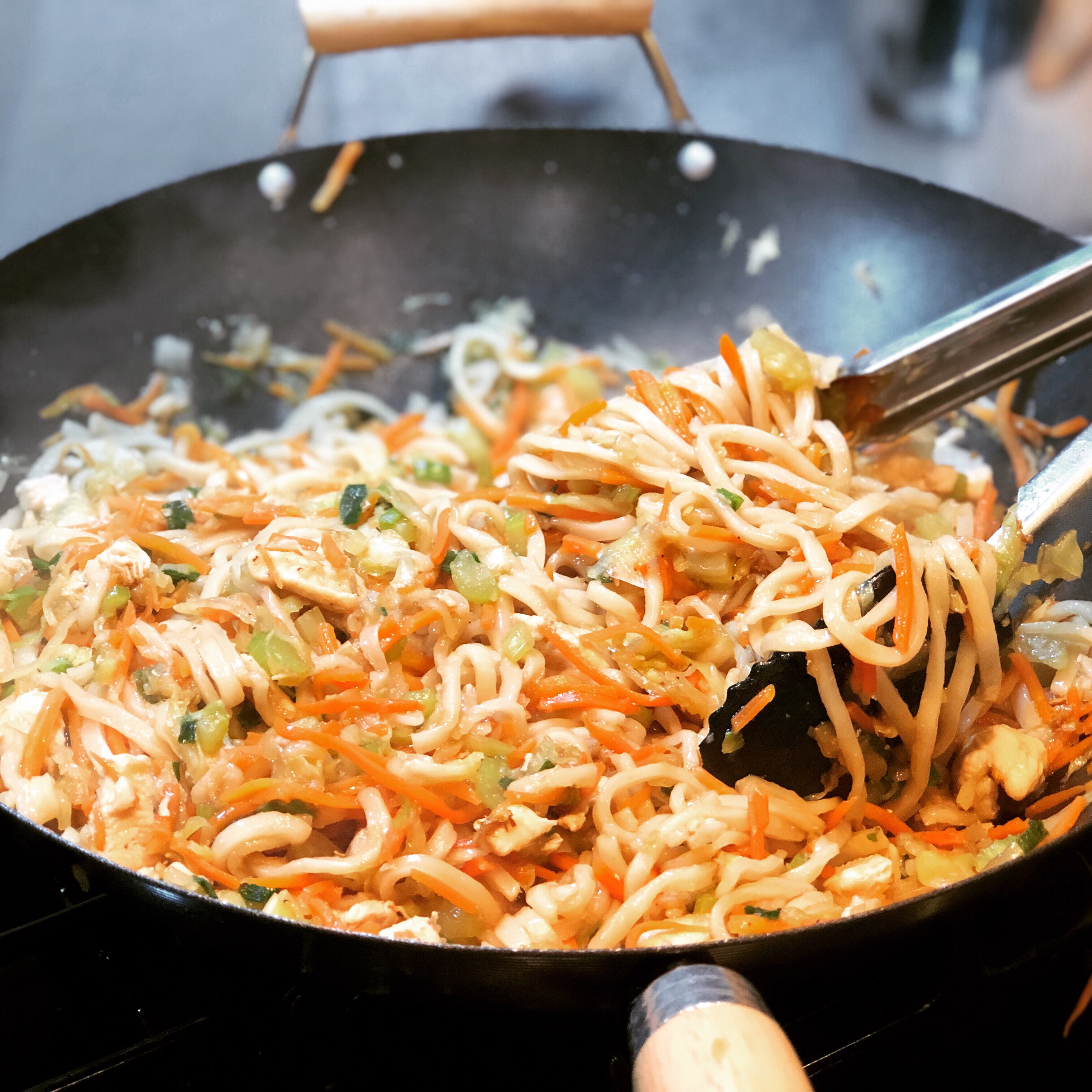 I love the flavors of Asian cuisine, and fortunately my family does too. This recipe for Lo Mein comes together quickly and is delicious. Getting take-out Thai or Chinese is super easy, but making it yourself is easy too AND a whole lot healthier! As a comparison, a popular sit down Asian restaurant's Lo Mein Chicken clocked in at more than double the calories, fat, carbs, sugar, and sodium (a whopping 2400 mg – a day's worth) as my recipe. Well worth making it at home.
The best cooking tool to use for this is a wok. If you don't have one and you love stir frys and other Asian recipes you should really consider getting one. I got mine at Brown's Kitchen Center on Capital Circle here in Tally – a great local place for all things related to cooking. I also saw some the other day at Homegoods. The one I got I believe was around $30.
Another note, the first time I made this I made it with spaghetti and it was pretty good. The next time though I decided to go more authentic and went to Lynn's Oriental Market at 1214 Capital Circle SE. I had been wanting to check it out for a while. For those of you who are in Tallahassee if you want an experience, and to find authentic Asian ingredients, you might want to go check it out for yourself. There is one entire aisle dedicated to noodles of all shapes, sizes, and types. There are also refrigerated and frozen noodles too. Pretty cool. For this recipe I went with these that I found in the frozen aisle. They were delicious.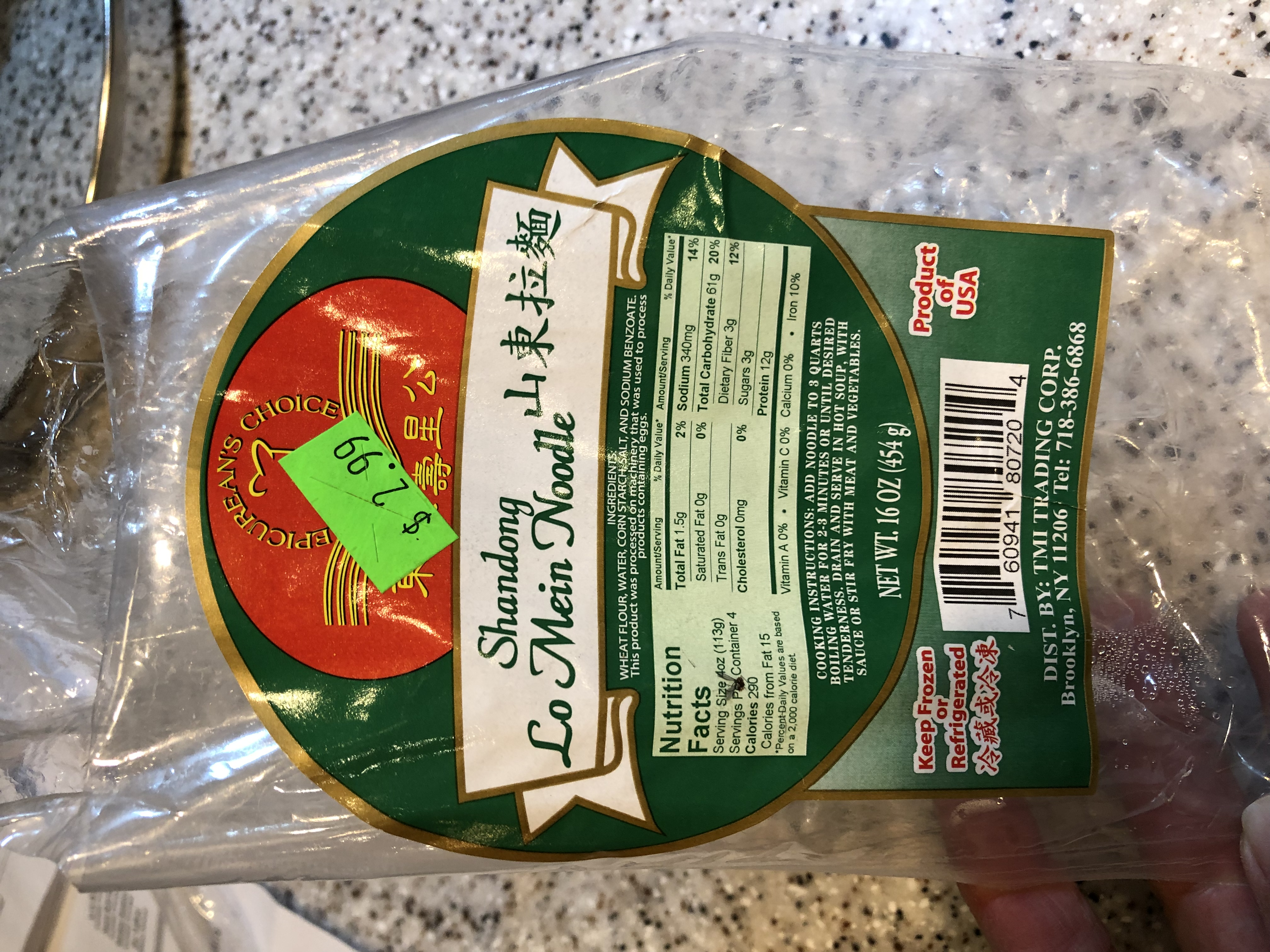 Don't have time to go to Lynn's or your local Asian market just yet? I looked at Publix to see what their selection was like and found these on the International aisle with the other Asian ingredients…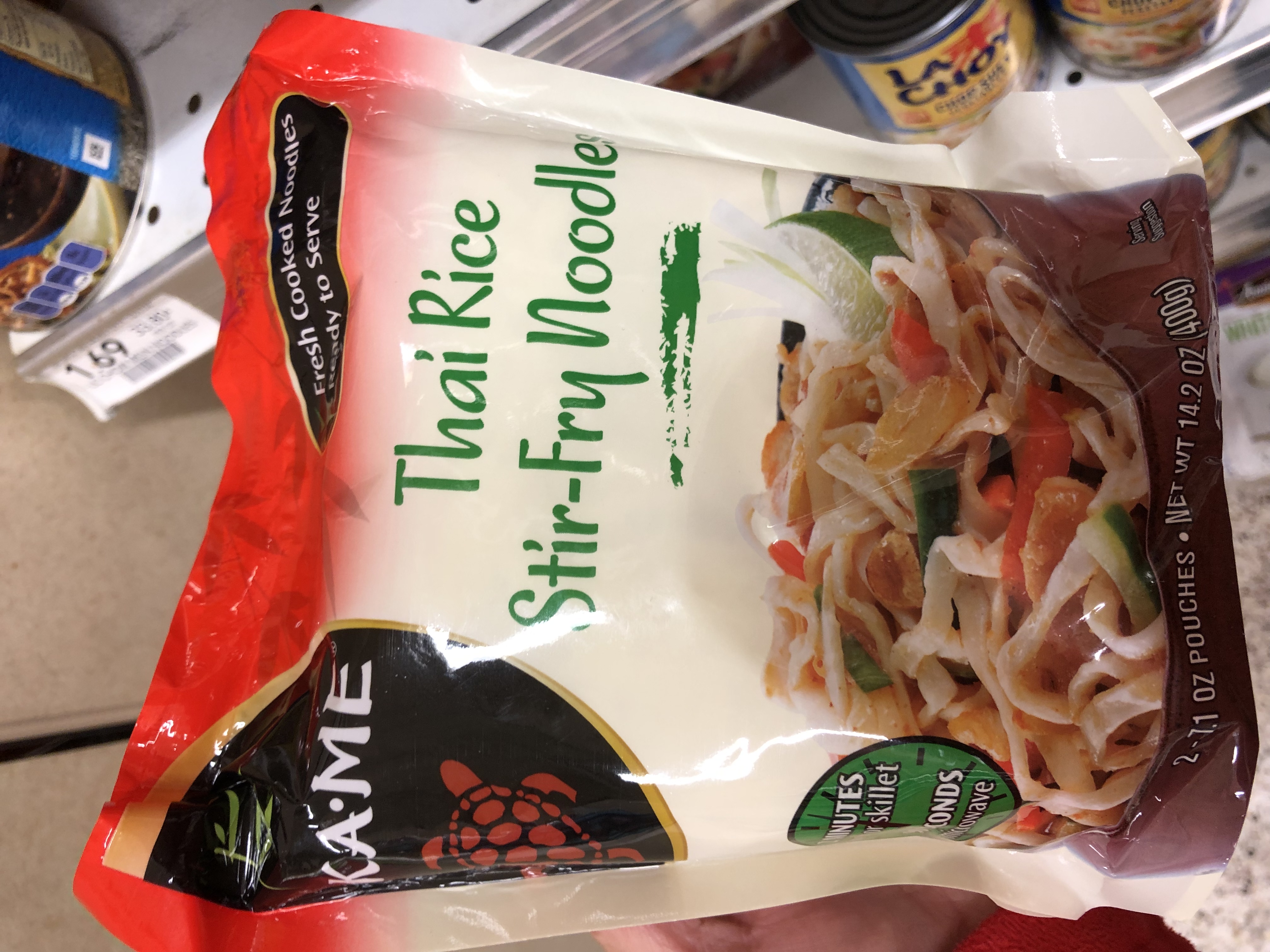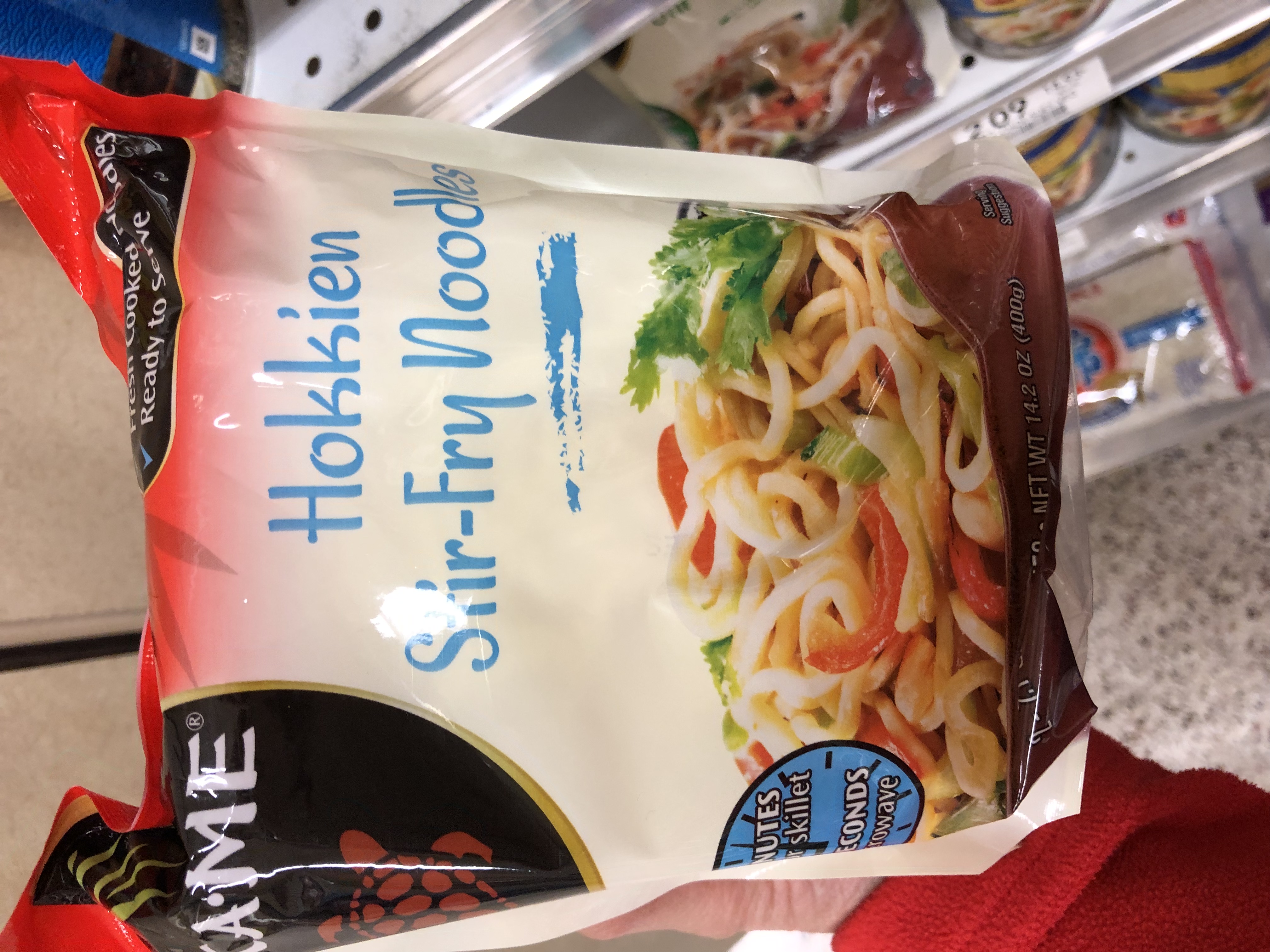 Lo Mein Chicken
Ingredients
1 lb refrigerated lo Mein noodles
1 lb boneless skinless chicken breasts, sliced into thin bite-sized pieces
1/2 cup yellow onion, chopped (I buy frozen chopped onions at Publix)
1 cup thinly sliced celery (3 stalks)
2 Tbsp vegetable oil
3 cups thinly sliced green cabbage (I used most of a Trader Joe's 10 ounce bag Shredded Green Cabbage)
2 cups shredded carrots (I use TJ's 10 ounce Shredded Carrots)
2/3 cup chopped green onions (about 5)
2 tsp minced ginger*
2 garlic cloves, minced
5 Tbsp low-sodium soy sauce
2 Tbsp oyster sauce
1 1/2 Tbsp granulated sugar
3 tsp sesame oil
Instructions:
1. Prepare noodles according to directions on package.
2. In a bowl whisk together soy sauce, oyster sauce, sugar and sesame oil, set aside.
3. Heat oil in a wok or large and deep non-stick skillet over moderately high heat.
4. Add chicken and stir-fry for 6-8 minutes or until chicken is cooked through. Transfer to a plate.
5. Reduce heat slightly add remaining 1 Tbsp oil in skillet, add celery and yellow onion and saute 3 minutes.
6. Add cabbage and saute 2 minutes, then add carrots, green onions, garlic and ginger and saute 1 – 2 minutes longer, until veggies are all crisp tender.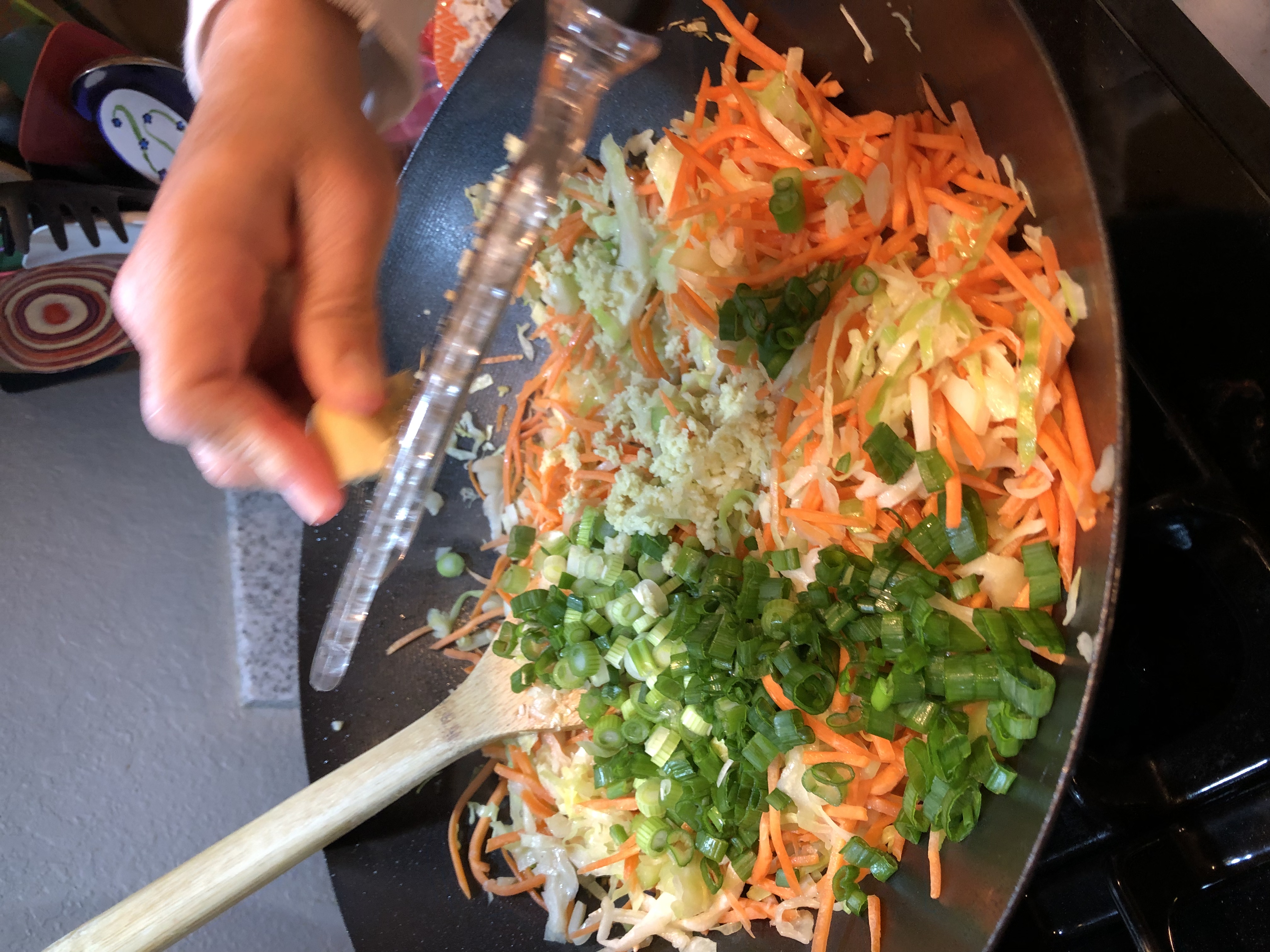 7. Toss in noodles and chicken then pour in sauce mixture. Toss all ingredients together. Enjoy!
Servings: 6 (about 1 1/2 cups)
Nutrition Information
Calories: 450 Total Fat: 13.5 g Saturated Fat: 2.8 g Cholesterol: 67 mg Sodium: 1118 Carbohydrates: 53 g Fiber: 5 g Sugars: 9 g (natural and added) Protein: 32 g
* If you haven't used fresh ginger before don't be intimidated. It is located in the produce section. You can break off a smaller piece if all they have are large pieces. You simply (and carefully) peel it with a vegetable peeler, rinse it, and grate it. This is what it looks like…