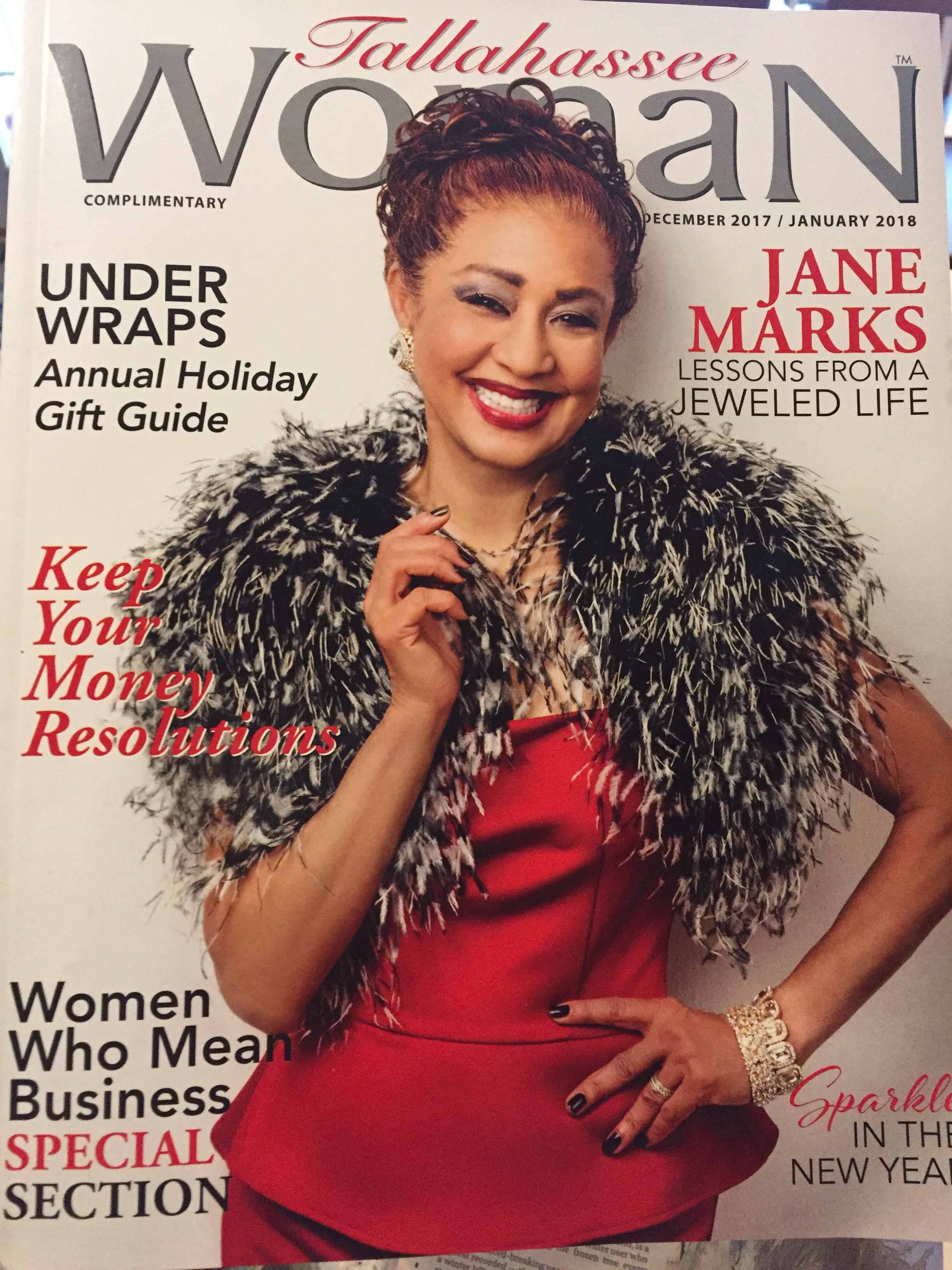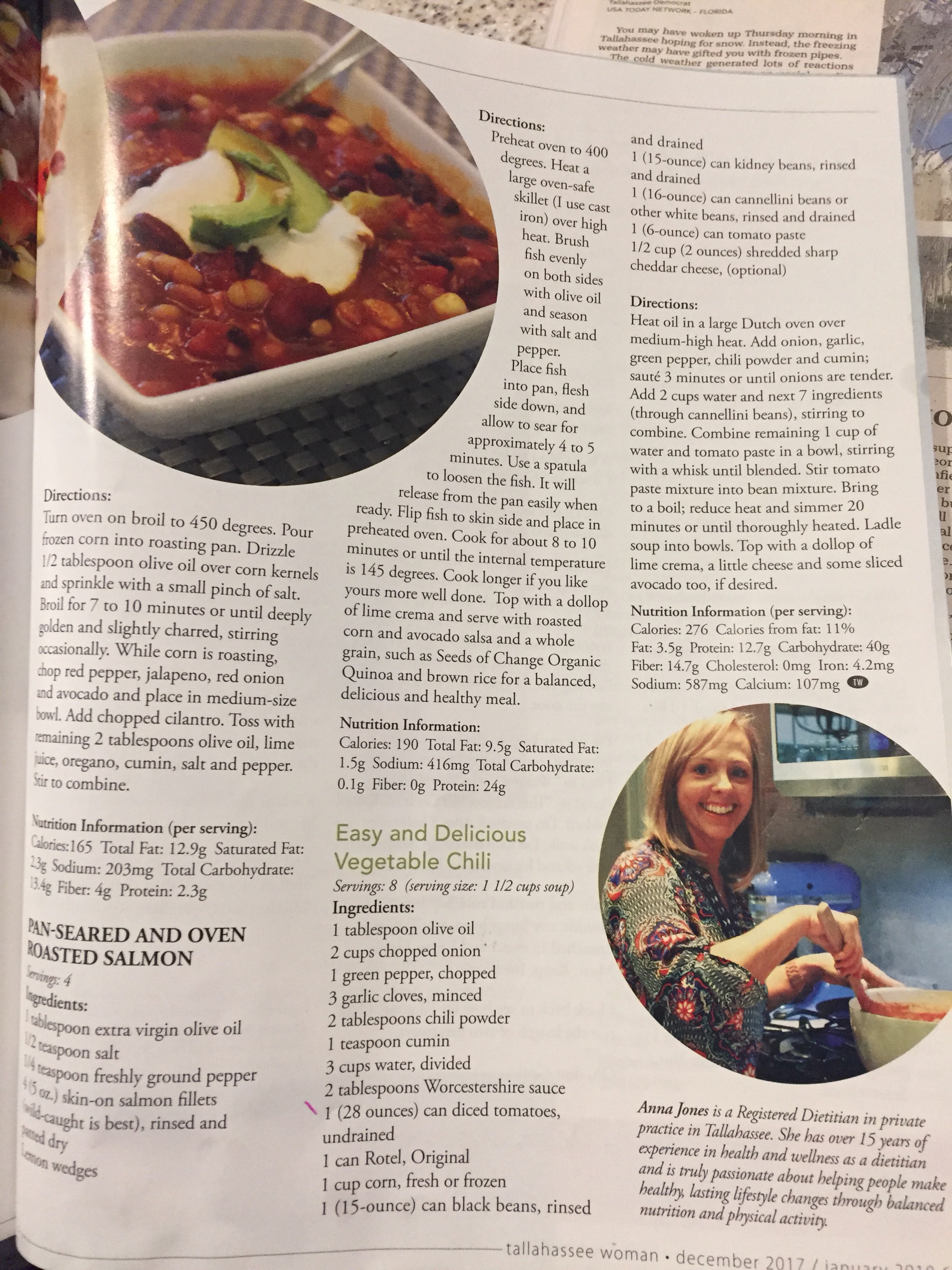 In case you missed my contribution to the December/January Tallahassee Woman magazine, here is the article with some easy but really delicious meals to add to your home cooking repertoire!
Cooking delicious food at home is one of the best ways to eat well and get healthy, and is one of the most important things I work on with clients.  Preparing meals at home doesn't need to be overly complicated or time consuming to be tasty.  A big part of eating at home more often is making a plan for the week ahead on Saturday or Sunday and shopping for the ingredients you need to have on hand.  When you are first starting out or getting back on track with meal planning, just take it 3-4 days at a time to make it more manageable.
The two recipes here are super easy to prepare and are full of flavor.  The pan-seared salmon, although the title sounds a little complicated and fancy, really couldn't be much easier and is delicious.  The salmon is pan-seared, but then finished in the oven to lock in its moisture and flavor.  It is served alongside an easy roasted corn and avocado salsa and topped with a flavorful lime crema.  Salmon, as many of us already know, is packed with heart healthy omega-3 fats and eating it once or twice a week is a good goal.
The chili is a vegetarian version, but you won't miss the meat one bit.  Evidence is stacking up that the more we can shift to a plant-based way of eating, basing our eating on whole grains, beans, peas, nuts, and fruits and vegetables, the better for our health.  What better way to enjoy beans and veggies on a cold winter night than with a piping hot bowl of chili. Oh and a dollop of the lime crema is really good in the chili too.  Make both of these dishes in the same week and you will have it for both.  Enjoy!
Pan-Seared Oven & Roasted Salmon with a Lime Crema and a Roasted Corn and Avocado Salsa
Lime Crema
Ingredients:
1/2 cup sour cream
1/2 teaspoon garlic powder
1/4 teaspoon salt
zest and juice of 1 lime
Directions:  
Mix all ingredients together and let sit while you prepare salsa and salmon.
Servings:  8 (1 serving = 1 tablespoon)
Nutrition Information:  
Calories:  34   Total Fat:  3 g   Saturated Fat:  2 g   Sodium:  81 mg   Total Carbohydrate:  1.6 g   Fiber:  0.3 g   Protein:  0.6 g
Roasted Corn and Avocado Salsa
Ingredients:
1 1/2 cups frozen corn (I like Today's Harvest Silver Queen style Corn – find it in the freezer aisle at Publix)
1 red bell pepper, chopped
1 jalapeno, chopped
1/2 cup red onion, chopped
1 avocado, chopped
1/4 cup cilantro, chopped
2 1/2 tablespoons olive oil, divided juice of 2 limes
1/4 teaspoon dried oregano
1/4 teaspoon cumin
1/2 teaspoon salt and pepper to taste
Directions:  
Turn oven on broil at 450°.  Pour frozen corn into roasting pan.  Drizzle 1/2 tablespoon olive oil over corn kernels and sprinkle with a small pinch of salt.  Broil for 7-10 minutes or until deeply golden and slightly charred, stirring occasionally.
While corn is roasting, chop red pepper, jalapeno, red onion, and avocado and place in medium size bowl.  Add chopped cilantro.  Toss with remaining 2 tablespoons olive oil, lime juice, oregano, cumin, salt, and pepper.  Stir to combine.
Servings:  6
Nutrition Information:  
Calories:  165   Total Fat:  12.9 g  Saturated Fat:  2.3 g   Sodium:  203 mg   Total Carbohydrate:  13.4 g  Fiber:  4 g   Protein:  2.3 g
Pan-Seared & Oven Roasted Salmon
Ingredients:  
1 tablespoon extra virgin olive oil
1/2 teaspoon salt
1/4 teaspoon freshly ground pepper
4 (5 oz.) skin-on salmon fillets (wild-caught is best), rinsed and patted dry
Directions:
Preheat oven to 400°.
Heat a large oven safe skillet (I use cast iron) over high heat.  Brush fish evenly on both sides with olive oil and season with salt and pepper.
Place fish onto pan, flesh side down and allow to sear for approximately 4-5 minutes. Use a spatula to loosen the fish.  It will release from pan easily when ready.  Flip fish to skin side and place in preheated oven.
Cook for about 8-10 minutes or until the internal temperature is 145°.  Cook longer if you like yours more well done.
Top with a dollop of Lime Crema and serve with Roasted Corn and Avocado Salsa and a whole grain, like Seeds of Change Organic Quinoa and Brown Rice for a balanced, delicious, and healthy meal.
Servings:  4
Nutrition Information:  
Calories:  190   Total Fat:  9.5 g   Saturated Fat:  1.5 g   Sodium:  416 mg   Total Carbohydrate:  0.1 g   Fiber:  0 g   Protein:  24 g
Easy & Delicious Vegetable Chili
Ingredients:
1 tablespoon olive oil
2 cups chopped onion
1 green pepper, chopped
3 garlic cloves, minced
2 tablespoons chili powder
1 teaspoon cumin
3 cups water, divided
2 tablespoons Worcestershire sauce
1 (28 ounce) can diced tomatoes, undrained
1 can Rotel, Original
1 cup corn, fresh or frozen
1 (15-ounce) can black beans, rinsed and drained
1 (15-ounce) can kidney beans, rinsed and drained
1 (16-ounce) can cannellini beans or other white beans, rinsed and drained
1 (6-ounce) can tomato paste
1/2 cup (2 ounces) shredded sharp cheddar cheese, (optional)
Directions:  
Heat oil in a large Dutch oven over medium-high heat. Add onion, garlic, green pepper, chili powder, and cumin; sauté 3 minutes or until onions are tender. Add 2 cups water and next 7 ingredients (through cannellini beans), stirring to combine.
Combine remaining 1 cup of water and tomato paste in a bowl, stirring with a whisk until blended. Stir tomato paste mixture into bean mixture. Bring to a boil; reduce heat, and simmer 20 minutes or until thoroughly heated. Ladle soup into bowls.  Top with a dollop of lime crema, a little cheese, and some sliced avocado too, if desired.
YIELD: 8 servings (serving size: 1 1/2 cups soup)
Nutrition Information:
Calories: 276    Calories from fat: 11%    Fat: 3.5g        Protein: 12.7g    Carbohydrate: 40 g   Fiber: 14.7g    Cholesterol: 0 mg    Iron: 4.2mg    Sodium: 587mg    Calcium: 107mg