Eating at home more often is one of the best things you can do if you are trying to eat better in the New Year.  Having a plan can make eating at home easy.
I have a meal planning toolkit I provide for clients to help them organize their approach and make the whole process easier.  It doesn't have to be complicated or difficult.  One easy tip is to start to keep a list of meals.  I call this a Master List of Meals.  As you try meals or recipes you like, add them to your list, either in your notes on your phone or handwritten on paper.  This way when you go to make a plan for meals for the week you have a list of tried and true meals to pull from, making the process of planning easier.
Here are a couple easy and delicious recipes that you might decide are worthy of your Master List.
Creamy Chicken and Wild Rice Soup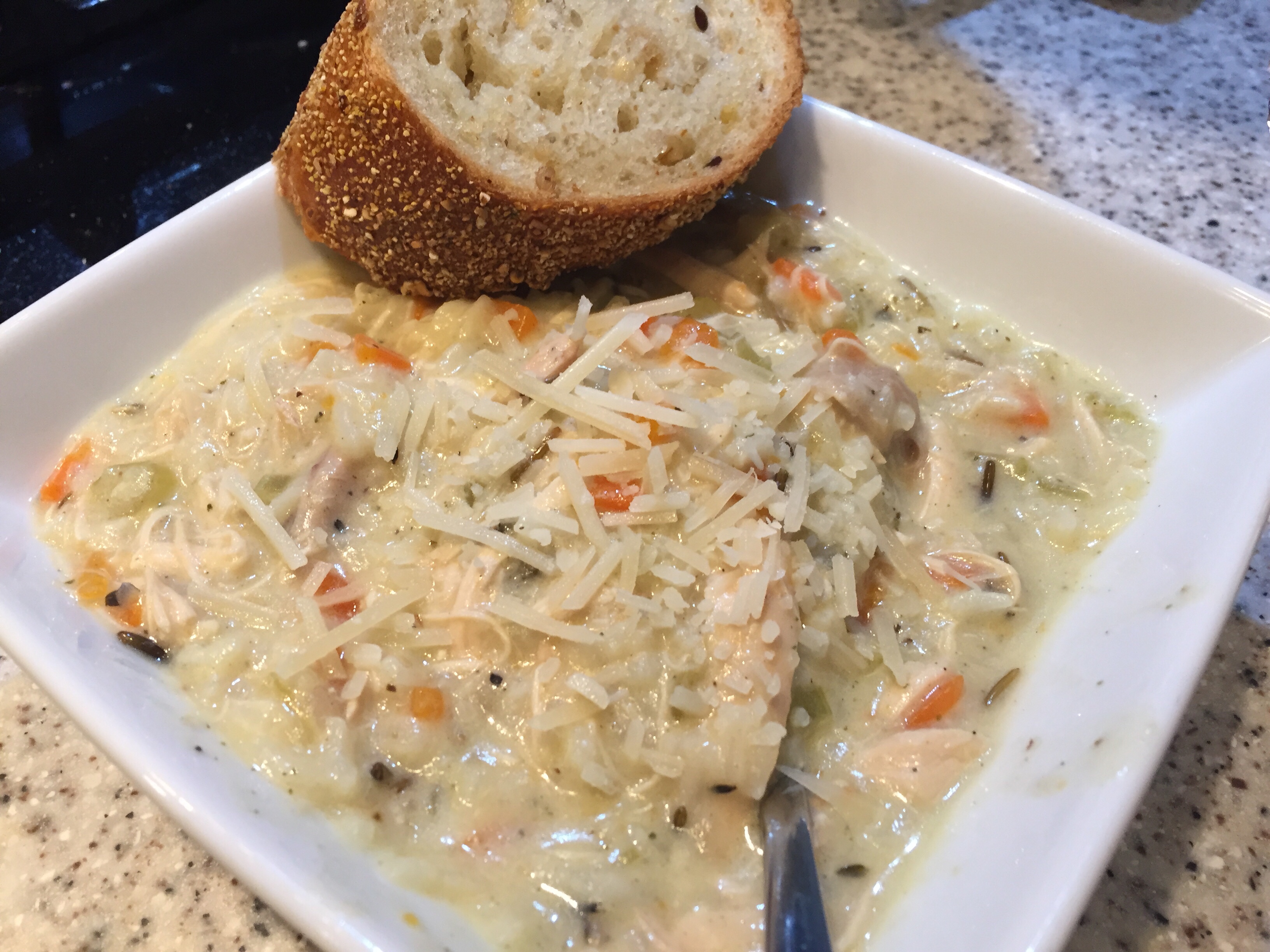 Who doesn't love a good creamy soup on a chilly evening?  This one is like comfort in a bowl. Serve it with a salad on the side and you have a perfectly balanced, mouthwatering meal.  My husband raved about it and hopefully your family will too.
Ingredients
1 tablespoon olive oil
1 tablespoon butter
2-3 celery stalks, sliced (about 1 cup)
2-3 carrots, sliced (about 1 cup)
1 small white onion, diced (about 1 cup)
1 tablespoon minced garlic (2-3 cloves)
2 bay leaves
1/4 teaspoon dried thyme
1/2 teaspoon dried oregano
1/4 teaspoon black pepper
1/2 teaspoon kosher salt
6 cups reduced sodium chicken broth
2 cups cooked and shredded chicken (I used shredded Publix Mojo rotisserie)
1/2 cup half and half
1/2 cup skim milk
3 Tablespoons all-purpose flour
1 cup uncooked long grain wild rice
Preparation
In a large pot over medium heat, melt butter and olive oil. Add carrots, celery and onion and cook until onions are translucent, stirring often.
Add garlic, bay leaves, thyme, oregano, salt and pepper. Cook and stir for 1 minute. Stir in chicken and chicken broth and bring to a boil, stirring often. Cover and reduce to simmer for 20 minutes.
Whisk half and half, milk and flour together in a bowl. Whisk into soup until combined.
Stir in wild rice and simmer for another 20 minutes or until rice is tender.
Servings:  8
Nutrition Information:
Calories:  246  Fat:  10.2  Saturated Fat:  4 g   Carbohydrates:  18.1 g  Fiber:  1.3 g  Sugars:  3.5 g    Protein:  20 g
Arizona Skillet
This is an easy to put together vegetarian meal with tons of flavor and a little spice. It comes together in minutes and makes enough for leftovers for lunch the next day.
Ingredients
1 Tablespoon olive oil
1 small onion
1 green pepper
1-2 teaspoons minced garlic
1 Tablespoon chili powder
Pinch of salt
½ teaspoon cumin
1 (14 oz.) can diced tomatoes
1 (16 oz.) can pinto or kidney beans
1 cup frozen corn
6 " 8 oz. whole wheat pasta of your choice, e.g. shells, cooked
½ cup shredded jalapeno jack cheese
Preparation
In a large skillet, heat oil over medium-high heat.  Add onion, green pepper, garlic, chili powder, salt, cumin, sauté 4 minutes or until vegetables are tender.  Stir in tomatoes.  Add beans and corn; bring to a boil.  Reduce heat; simmer for 15 minutes stirring occasionally. Toss with elbows.  Sprinkle with cheese.
Servings:  6
Nutrition Information:  
Calories:  320  Fat:  5.5 g  Saturated Fat:  2 g  Carbohydrates:  32 g  Fiber:  7g  Protein:  9 g
Tip:  I buy Publix frozen chopped onions often.  They are a nice convenience and give me one less thing to have to chop.
Enjoy!