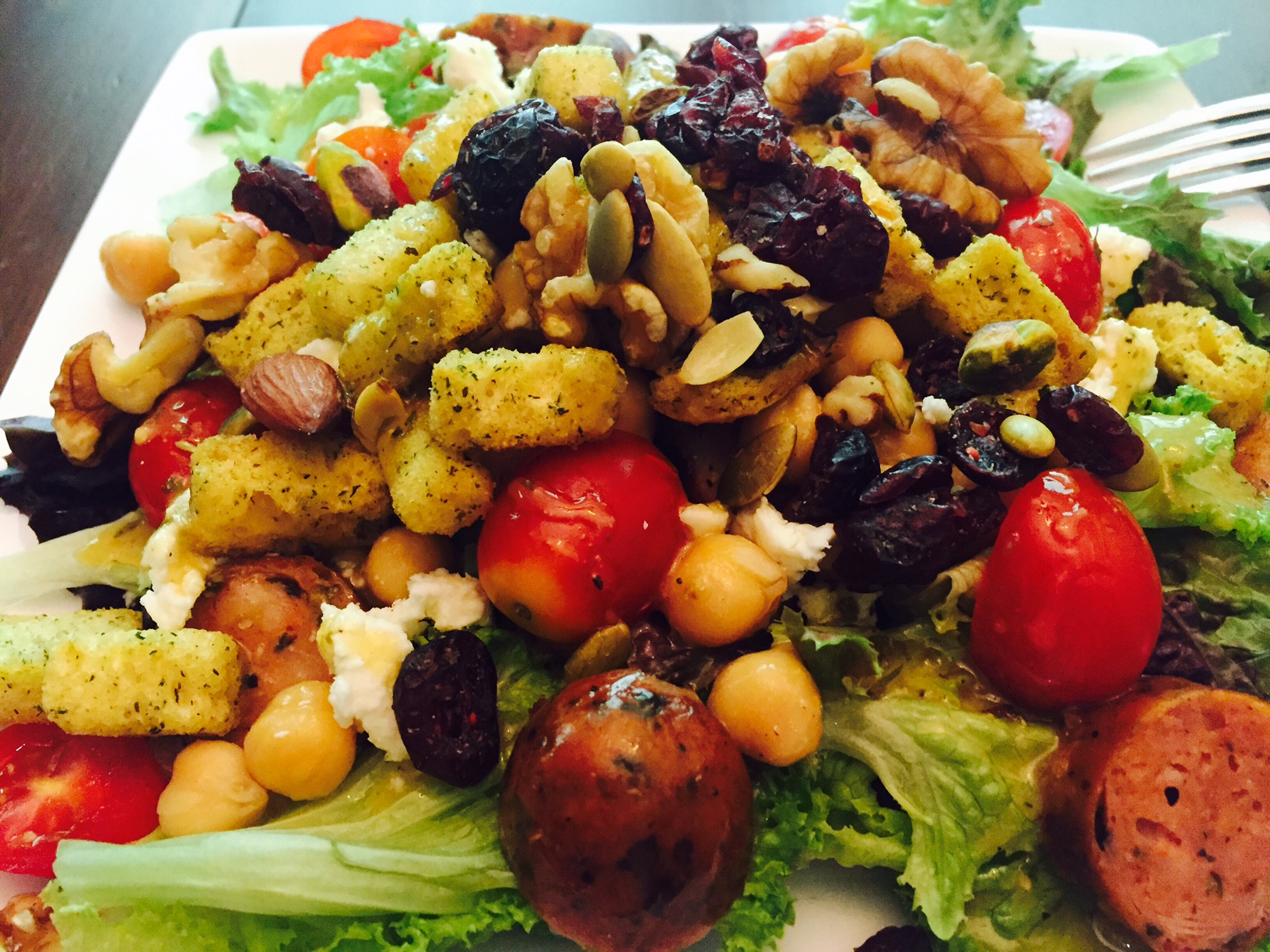 In my last blog I gave you a variety of ways to create interesting and satisfying salads. What I didn't talk about, though, is what we put on our salad-the dressing. Store bought dressings are the typical go-to, but they can ruin a perfectly delicious salad with their over abundance of artery clogging trans and saturated fats, sugar and high fructose corn syrup, sodium, and other hard to pronounce ingredients and preservatives that allow us to keep those dressings in the fridge for weeks, if not months.
Making your own salad dressing is one of the easiest things to do in the kitchen. Plus, homemade dressings are fresher, tastier, cheaper, and better for you. It just takes a few ingredients you likely already have on hand, and you can whisk or shake up your own homemade salad topping creation in minutes. I promise once you make your own you won't want to go back to the old run of the mill store bought stuff.
The best place to start is by making a simple vinaigrette. By definition a vinaigrette consists of 3 parts oil and 1-2 parts vinegar or other acid, like lemon juice. Here are some simple steps to guide you:
STEP 1: The oil
A good quality extra virgin olive oil is a great choice, but if you prefer a more mild flavor canola oil or grapeseed oil are good options too.
STEP 2: The vinegar (or acid)
For the vinegar, really anything goes – red or white wine vinegar, balsamic, sherry, champagne, even raspberry. If you cook much you likely, like me, have a little collection of different types of vinegars. You can get creative and try them out and see which one you like best. If you don't already have a collection, start with red or white wine vinegar as they are mild in flavor. Some people like a lemon flavored vinaigrette. To achieve that you can just use freshly squeezed lemon in place of some or all of the vinegar.
STEP 3: Seasonings and spices
Once you have your base ingredients you add a pinch of salt and some freshly ground pepper. You can stop there or you can go an extra step and add fresh or dried herbs or other spices or seasonings you have on hand to pump up the flavor – like chopped fresh parsley, chives, or rosemary. If you like garlic, chop up a clove or two of fresh garlic and throw it in. My husband bought us a variety of little dried spice packets at a market when he was out of town several months ago and one is a Greek seasoning with Feta and I have been throwing that into our dressings. A good rule of thumb is to use about a 1/2 teaspoon dried or 1 tablespoon fresh herbs per tablespoon vinegar.
STEP 4: Other ingredients
If you aren't a big fan of the more simple vinaigrette dressing you can also add creaminess to your dressing with the addition of 2-3 parts sour cream or plain Greek yogurt.
Basic Vinaigrette Recipe
Yield: about a 1/4 cup
1 Tablespoons red or white wine vinegar
1/4 teaspoon salt
3 Tablespoons extra virgin olive oil
Freshly ground pepper
Creamy option:  Whisk or shake in 2 Tablespoons sour cream or plain Greek yogurt
Whisk salt into vinegar to dissolve. Slowly drizzle in oil, whisking well to combine. Finish with freshly ground pepper.  (You can also pour all your ingredients into a mason jar or other tightly closed small container and shake it up well to combine.)  Add other dried or fresh herbs or seasonings to your taste.
*Note: Because this dressing is not full of artificial junk that keeps it emulsified, it will separate. If you put it in the fridge the oil, especially olive oil, will coagulate or harden. This is ok and natural because that's what fats do at cold temps. If this happens, just take it out of the fridge 10 or 15 minutes before you use it to bring it to room temperature, then just shake or whisk it well once it is liquid again.