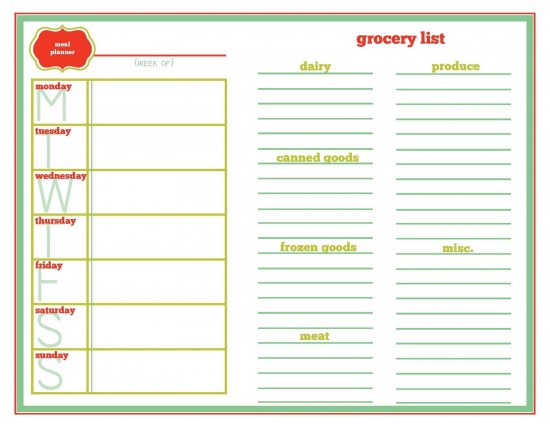 Meal Planning, or lack of meal planning, is one habit that I hear over and over from clients that gets in their way. Not planning in advance sets us up for failure. When we don't have healthy choices – or any choices- on hand we end of scrambling at the last minute and either throwing something together that may not be as balanced as it should be or we go out – which creates opportunities for making unhealthy choices and overeating.
Thinking ahead and planning out the week ahead can seem like a real chore when you are developing it as a new habit. So much of eating better is about surrounding yourself with a healthy environment that supports you in making better choices. With a few tips and tricks meal planning can become second nature and make eating better so much easier.
Make a plan on Saturday or Sunday for the week ahead. Taking just 10 minutes or so to think about the week ahead and make a plan for what you and your family will eat is important. Don't get overwhelmed thinking about 6 or 7 days, but instead just plan for 3 or 4 days out and then more than likely you will need to go back to the store, and then you can think about the next 3 or 4 days. Being prepared before you get to the grocery store will help make it an easier trip. Consider setting an appointment in your phone or calendar so you have this time set aside. It's also helpful to keep a running grocery list of things needed up on the fridge that all family members add to throughout the week.
Keep a master list of go-to meals you and your family enjoy. I have a master list of meals in the note section of my phone so that when I go to make a plan for dinners for the week I am not hemming and hawing about what's for dinner. All I have to do is pull up the list and pull 3 or 4 meal ideas from there. If I try a new recipe and we like it I add it to the list so that I don't forget it. For me, this is one thing that has made meal planning worlds easier.
Make good use of Social Media. You can use Pinterest or Facebook to help you remember recipe and meal ideas. I have a Pinterest board with meal ideas and recipes so that I have them all in one place and easily accessible when I am ready to cook. I also get Cooking Light magazine and as I peruse through each issue and see recipes I might like to try I find the recipes online and pin them to my board.
Don't forget snacks and lunches too. Think ahead and make sure you have what you need on hand. A good friend of mine makes 5 salads in containers at the beginning of the week so that they are all ready for her to take with her to work. A little prep ahead can really set you up for success during those busy crunch times during the week. Remember to make good use out of leftovers too.
Have theme nights to take some of the thought out of what's for dinner. Pick one or two nights out of the week to have theme nights to help take the thought out of planning. Every Tuesday we have Taco Tuesday at our house. Every family member enjoys it and it is super easy. When my kids ask "what are we having for dinner?" on Tuesday, all I have to say is "what day is it?" and they know. Maybe it's breakfast for dinner every Wednesday or spaghetti every Thursday. If there are certain meals you know are easy and everyone enjoys make them regulars on your schedule.
So there you have it. Just a few simple ideas that will take a little of the work out of planning healthy meals and snacks for you and your family. Give them a try and let me know how it goes!