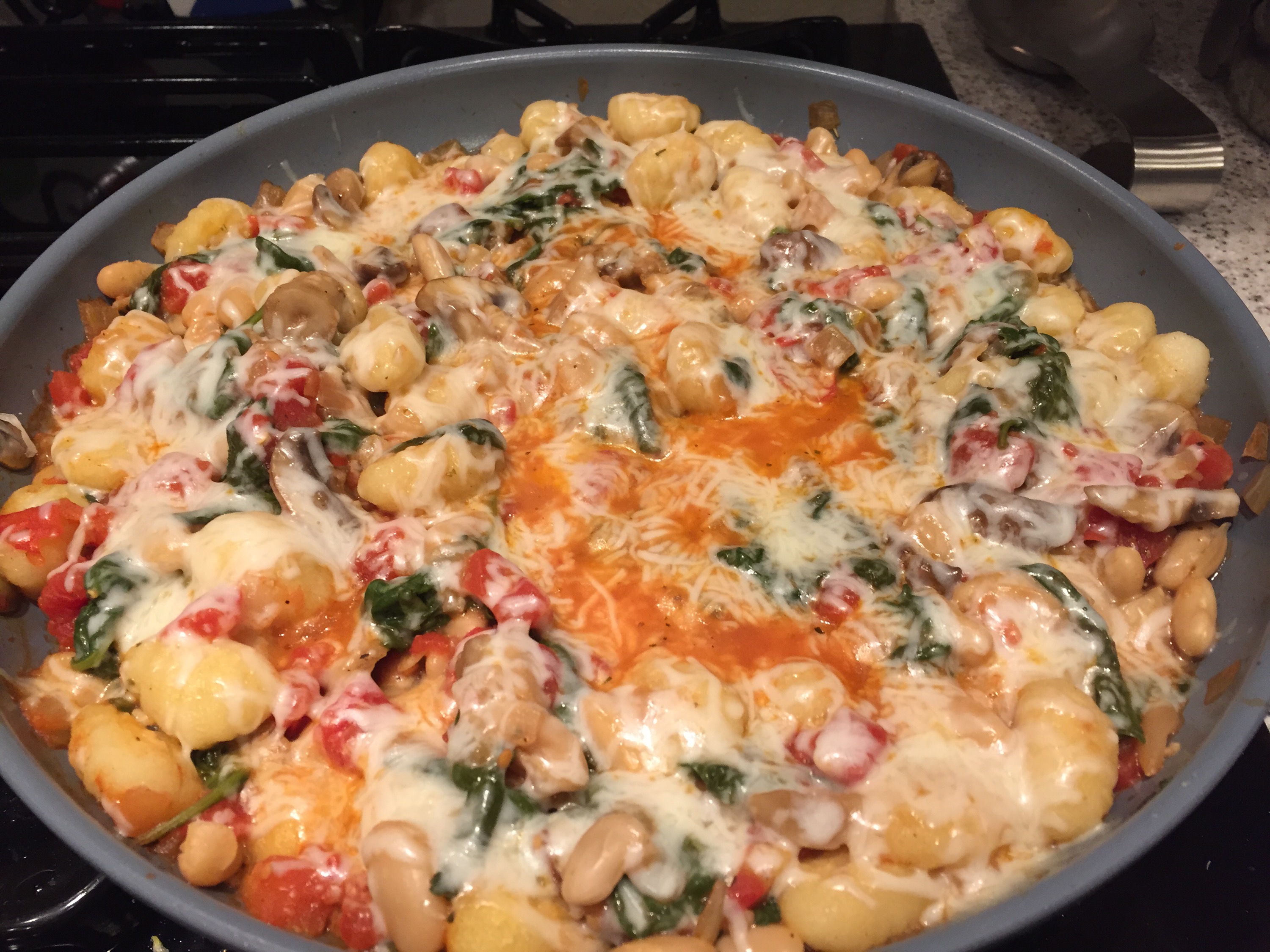 So, our kids are gone for the week. We are so fortunate, and very grateful, to have Grandparents who are close-by and actually schedule in time to have our kids during the Summer. Of course I will miss my children when they are gone, but I also plan to thoroughly enjoy our time apart.
One of the things I am most excited about is the fact that I will be able to make whatever recipe I want with all the yummy, healthy ingredients I love, but my little people could do without. I do my best to "practice what I preach" even when cooking for my kids, but there are some things that I have learned are off limits and best left for a date night at home for my husband and I. I plan to have as many of those this week as possible.
On the menu for Monday night: "Knock Your Socks Off Gnocchi" – so named by my husband after devouring his bowlful. This gnocchi recipe incorporates many of the delicious and healthy components I encourage often. It is meatless, and instead gets its protein mostly from beans, and is chock full of veggies with a little cheese sprinkled on top.
It is a simple one-pan recipe, with a short list of ingredients and the results are super tasty. This is one of those recipes, too, that just gets tastier over the next day or two. Pair it with a leafy green salad with a few toppings.  I topped mine with some garbanzo beans, fresh tomatoes, and a little feta.  Hope you enjoy it as much as my husband and I did!
Knock Your Socks Off Gnocchi
Ingredients
1 tablespoon plus 1 teaspoon extra-virgin olive oil, divided
1 16-ounce package shelf-stable gnocchi (find it in the pasta aisle)
1 medium yellow onion, thinly sliced
4 cloves garlic, minced
8 ounce container fresh baby Bella mushrooms, rinsed and sliced
1/4 teaspoon kosher salt
1/2 teaspoon dried Italian seasoning
A pinch of crushed red pepper (optional)
1/2 cup water
6 cups baby spinach (or chard)
1 15-ounce can diced tomatoes
1 15-ounce can white beans, drained and rinsed
1/4 teaspoon freshly ground pepper
1/2 cup shredded part-skim mozzarella cheese
1/4 cup finely shredded Parmesan cheese
Directions
Heat 1 tablespoon oil in a large nonstick skillet over medium heat. Add gnocchi and cook, stirring often, until plumped and starting to brown, 5 to 7 minutes. Transfer to a bowl.
Add the remaining 1 teaspoon oil and onion to the pan and cook, stirring, over medium heat, for 2 minutes. Stir in garlic, mushrooms, salt, Italian seasoning, and crushed red pepper (if your are using). Add water. Cover and cook until the onion and mushrooms are soft, 4 to 6 minutes. Add spinach, cover and cook, stirring, until starting to wilt, 1 to 2 minutes.
Stir in tomatoes, beans and pepper and bring to a simmer and let cook for 8-10 minutes. Stir in the gnocchi and sprinkle with mozzarella and Parmesan. Cover and cook until the cheese is melted and the sauce is bubbling, about 3 minutes.
Nutrition Information
Calories:  282    Fat:  g 6    Saturated Fat:  1.5 g    Cholesterol:  8 mg                 Sodium:  709 mg    Carbohydrates:  54 g    Fiber:  11 g    Sugar:  2.5 g    Protein:  13 g
Other featured recipes on our kid-less menu this week are Sweet and Spicy Shrimp Stir Fry and Kung Pao Chicken Zoodles (zoodles are spiralized zucchini that look like noodles).  If they turn out tasty I will be sure to share those too.