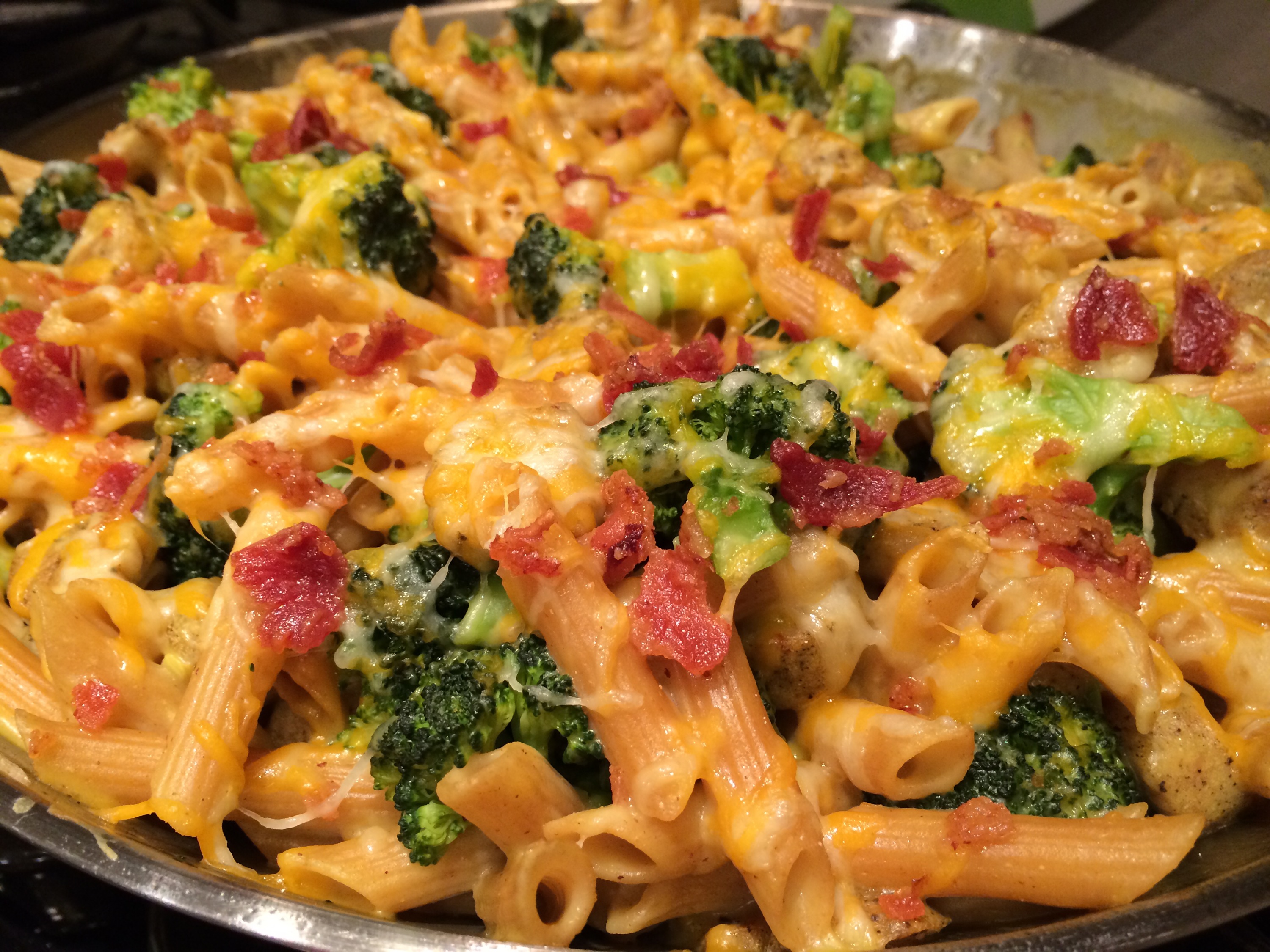 I bet you are saying "WHAT?! I must have read something wrong. No way the dietitian has a recipe like that on her site!" Well, you read it right and it is delicious. It got two thumbs up from every member of my family, which is a rarity. Like most pasta dishes it was even better as leftovers the next day.
I found it in Cooking Light, read the reviews, and decided to tweak it a little bit. Often times their recipes are delicious as is, but for this one I decided to just change it up a little bit. I switched up plain chicken breasts with chicken sausage and used whole wheat pasta instead of regular elbow macaroni. The cool thing about the turmeric is that it enhances the color and makes you perceive the sauce as cheesier than it really is. This is what I came up with…
Chicken Sausage Broccoli Mac & Cheese with Bacon
Ingredients
10 ounces uncooked 100% whole wheat rotini or penne pasta (I use Barilla)
3 cups prechopped fresh broccoli florets
2 slices center-cut bacon, coarsely chopped
8 ounce package Al Fresco Country Style Chicken Sausage breakfast links, cut into 1/2-inch pieces
1/2 teaspoon kosher salt
1 tablespoon minced fresh garlic
1/8 teaspoon ground turmeric
1 1/4 cups skim milk
1 cup 50% lower sodium chicken broth (such as Swanson)
1/4 cup plus 1 teaspoon all-purpose flour
1 cup sharp cheddar cheese, shredded
Preparation
Preheat broiler to high.
Cook pasta according to package directions. Add broccoli to pan during last 2 minutes of cooking. Drain.
While pasta cooks, place bacon in a large ovenproof skillet over medium-high heat; cook 4 minutes or until browned, stirring occasionally. Remove bacon from pan with a slotted spoon; reserve 1 teaspoon drippings in pan. Add chicken sausage to drippings in pan; cook 4 minutes. Sprinkle with garlic; cook 2 minutes, stirring occasionally. Sprinkle with turmeric; cook 30 seconds, stirring frequently.
Combine 1/2 teaspoon salt, milk, stock, and flour, stirring with a whisk. Add milk mixture to pan; bring to a boil, stirring frequently. Cook 2 minutes or until thickened. Add pasta and broccoli and 1/4 cup cheese; toss to coat. Sprinkle with remaining 3/4 cup cheese and chopped bacon. Broil 2 minutes or until cheese melts and just begins to brown.
Serves 8, 1 serving = 1 cup
Nutrition Information (per serving)
Calories: 259 Fat: 8g Saturated fat: 3.5g Protein: 18g Carbohydrate: 33g Fiber: 5g Sodium: 510mg Sugar: 4.5g
Note: When I had it for leftovers the next day I added a handful of baby spinach before putting it in the microwave to reheat it. It was even better. If everyone in your family is agreeable you could even had 2-3 cups of spinach to the recipe at the same time you add the pasta, broccoli, and cheese.
Hope you and your family enjoy it as much as we did!