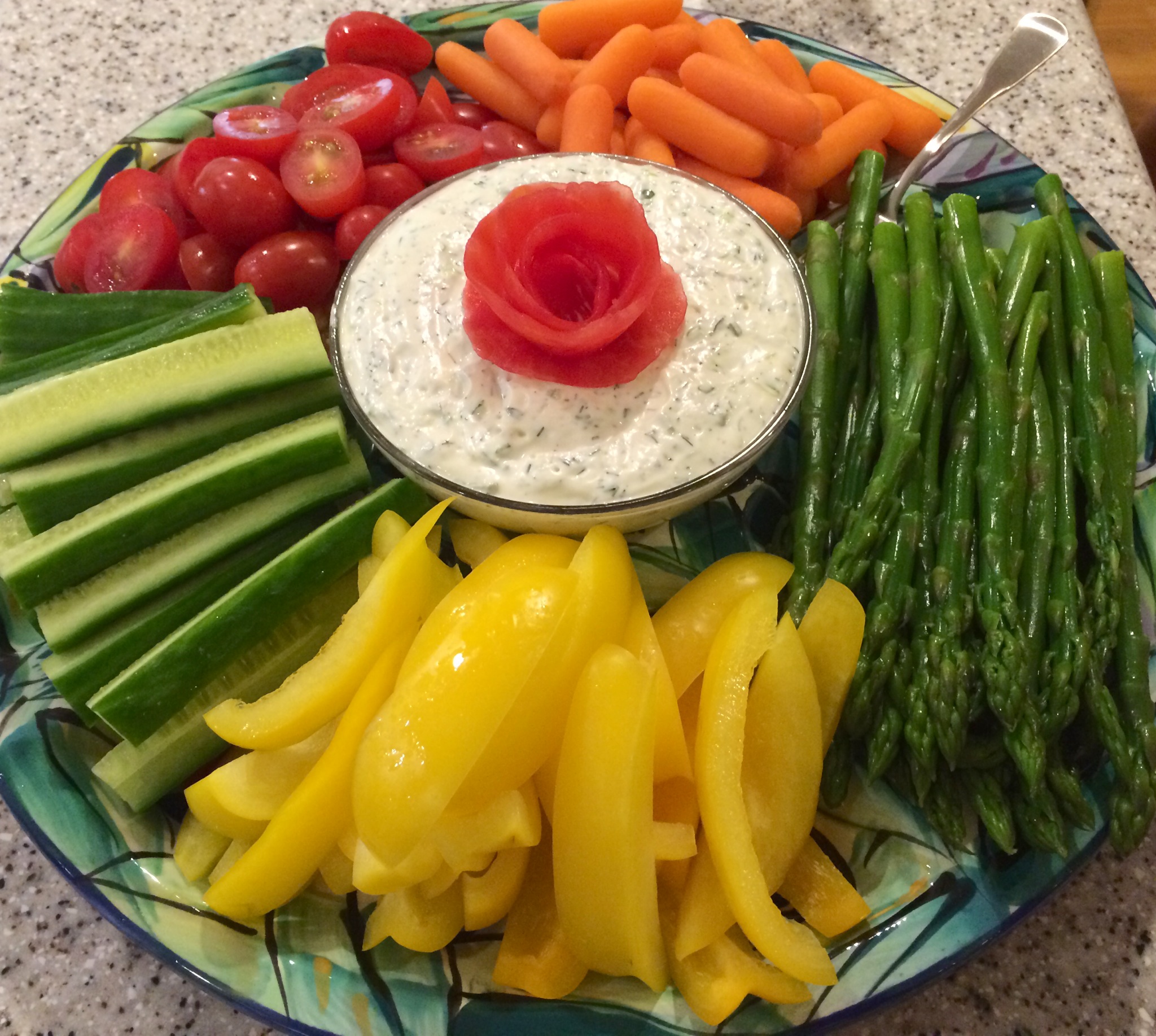 We are officially full-swing into the holiday party season. There are plenty of tempting, calorie-laden foods all around us this time of year.
Last week I was in search of a veggie dip to include with a crudité platter for a holiday party. I knew there would be more than enough heavy foods there so I wanted to try to provide something healthy for everyone to munch on.
Crudités – or veggie platters – are the perfect dish to have at any gathering. It gives guests and you some lower calorie, nutrient-rich foods to mindlessly munch on. All of the different colors and textures are just pretty too! You can get creative and try something different or stick with traditional choices.
I mixed my platter up a bit and added some blanched asparagus along with yellow peppers, grape tomatoes, baby carrots, and cucumbers. You could do just about anything – peppers of any color, zucchini, yellow squash, radishes, endive, broccoli, cauliflower, celery…the list is nearly endless. The key is to try to include many different colors to make your platter interesting.
The dip I found was an herb dip by Ina Garten, aka The Barefoot Contessa. I love the ease of Ina's recipes but they are often fairly heavy so I fidgeted with it a bit to lighten it.
I used Light cream cheese instead of regular, light sour cream, half the mayo called for which I replaced with plain Greek yogurt, and half the salt. By making these small changes I was able to reduce the calories by 35%, the total fat by nearly 50%, and the saturated fat by 40%!
This is so easy to do with many recipes this time of year, whether they are family favorites passed down over generations or new ones you are wanting to try. By making a few trade offs here and there with lighter ingredients you can reduce calories, fat, and sodium without even missing it.
Here is my easy breezy deliciously lightened recipe for herb dip.
Herb Dip
Ingredients:
8 ounces Neufchâtel reduced fat cream cheese, at room temperature
1/2 cup light sour cream
1/4 cup plain Greek yogurt
1/4 cup mayonnaise
4 scallions, white and green parts, minced
2 tablespoons fresh parsley leaves, minced
1 tablespoon fresh dill, minced
1/2 teaspoon kosher salt
3/4 teaspoon freshly ground black pepper
Directions:
Place the cream cheese, sour cream, yogurt, mayonnaise, scallions, parsley, dill, salt, and pepper in the bowl of a blender (I uses my Ninja with the dough blade) or an electric mixer fitted with the paddle attachment and blend. Serve at room temperature.
Yield: 2 cups
1 serving: 2 Tablespoons
Nutrition Information:
Calories: 71 Fat: 6 g Saturated Fat: 3 g Cholesterol: 15 mg Sodium: 158 mg Carbohydrates: 1 g Protein: 2 g
To add a little extra pizzazz to my dip I garnished it with a tomato peel twisted into a rose. It's actually really easy. You just peel a tomato continuously without breaking the peel and then just twist it into a rose shape.
My platter was empty when I left the party which is a sure indicator that it was a hit. Hope you try it and you get rave reviews too!