We all know that fruits and vegetables provide tons of healthy nutrients for us and our growing kids. But, in an age of Atkins, Paleo, and everything gluten-free we might not realize all the benefits whole grains provide.
Whole grains have disease-fighting phytochemicals and antioxidants, as well as B vitamins, vitamin E, magnesium, iron and fiber. People who eat three daily servings of whole grains have been shown to reduce their risk of heart disease by 25-36%, stroke by 37%, Type 2 diabetes by 21-27%, digestive system cancers by 21-43%, and hormone-related cancers by 10-40%.
Aim to get at least half your grains each day from whole sources. Here are some tips to help you do just that.
• Start your day off right with a ready-to-eat breakfast cereal made with whole grain. Or try oatmeal, also a whole grain food.
• Substitute white whole-wheat flour for half of the white flour in bread, muffin, biscuit, pancake, and waffle recipes.
• Try less common whole grains such as barley, bulgur, wheat berries, kasha, amaranth, quinoa and whole wheat couscous as sides or in casseroles, stuffing and salads.
• Choose whole wheat flour or corn tortillas to make quesadillas, tacos and burritos.
• Two quick-to-fix whole grain side dish options: whole-wheat couscous, a tasty alternative to rice that's ready in 5 minutes; and instant, frozen or microwavable brown rice, that slashes traditional brown rice cooking time!
Look for whole grain (not enriched) at or near the top of the ingredient list. You can also look for the whole grain stamp shown here: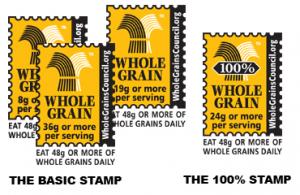 Give a healthy whole grain choice a try. You never know, you and your kids may love it! Go to wholegrainscouncil.org for more information about whole grains and some new recipes to try.