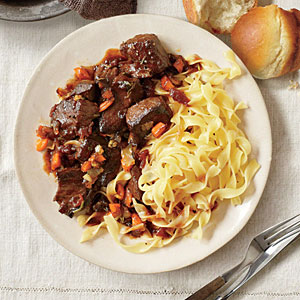 There is a little hint of Fall in the air and around my house that means more soups, chilis, and stews on the stove. I tried this recipe from the October 2013 issue of Cooking Light last night and had to share. The meat turns out super tender after cooking in the oven for over 2 hours and the flavors are delicious! I was afraid the garlic would be overwhelming, but it wasn't at all.  I didn't have fresh rosemary and thyme on hand so I just used about a teaspoon or so of dried Italian seasoning.  It was a hit with every member of my family and I hope your family enjoys it just as much!      
Beef Daube Provencal
2 teaspoons olive oil
12  garlic cloves, crushed
1  (2-pound) boneless chuck roast, trimmed and cut into 2-inch cubes
1 1/4 teaspoons salt, divided
1/2 teaspoon freshly ground black pepper, divided
1 cup red wine
2 cups chopped carrot
1 1/2 cups chopped onion
1/2 cup lower-sodium beef broth
1 tablespoon tomato paste
1 teaspoon chopped fresh rosemary
1 teaspoon chopped fresh thyme
  Dash of ground cloves
1 (14.5-ounce) can diced tomatoes
1  bay leaf
3 cups cooked medium egg noodles (about 4 cups uncooked noodles) – use whole wheat if you can
1. Preheat oven to 300°.
2. Heat a small Dutch oven over low heat. Add oil to pan; swirl to coat. Add garlic; cook 5 minutes or until garlic is fragrant, stirring occasionally. Remove garlic with a slotted spoon; set aside. Increase heat to medium-high. Add beef to pan; sprinkle with 1/2 teaspoon salt and 1/4 teaspoon pepper. Cook 5 minutes, browning on all sides. Remove beef from pan. Add wine to pan; bring to a boil, scraping pan to loosen browned bits. Add reserved garlic, beef, remaining 3/4 teaspoon salt, remaining 1/4 teaspoon pepper, carrot, and next 8 ingredients (through bay leaf), and bring to a boil.
3. Cover and bake at 300° for 2 1/2 hours or until beef is tender. Discard bay leaf. Serve over noodles.
Note: To make in a slow cooker, prepare through Step 2. Place beef mixture in an electric slow cooker. Cover and cook on high for 5 hours or until beef is tender.
Yield: 6 servings (serving size: about 3/4 cup stew and 1/2 cup noodles)
Prep time:  Hands-on: 40 Minutes, Total: 3 Hours, 15 Minutes
Nutritional Information (amount per serving):  Calories:  367    Fat:  12.8 g    Saturated Fat:  4.3 g    Monounsaturated Fat:  5.8 g    Polyunsaturated Fat:  0.9 g    Protein:  29.1 g    Carbohydrate:  33.4 g    Fiber:  3.9 g    Cholesterol:  105 mg    Iron:  4.3 mg    Sodium:  678 mg    Calcium:  76 mg
Give it a try and let me know what you think!  Looking for more tasty and healthy Fall recipes to try?  Check out www.cookinglight.com