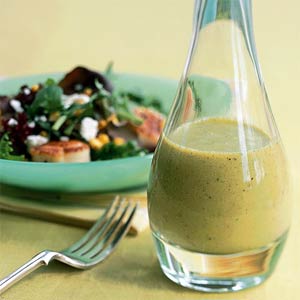 Would you pour a bottle of corn syrup over your freshly made salad or sprinkle your organic greens with sugar?  Sounds pretty gross?  Essentially that is what you are doing if you are using a salad dressing that has these two ingredients listed as one of the main ingredients.  A perfectly healthy, delicious salad can easily be ruined by using a less than healthy dressing.
One of the best ways to judge whether a product in the grocery store is healthy or not is to look at the ingredient list.  It is best to shy away from any product that lists high fructose corn syrup or sugar as one of the first 4 or 5 ingredients.  Another thing to look for is a long list of ingredients that you can't easily pronounce or recognize.  Sodium can also be really high in jarred or bottled salad dressings.
That being said, have you taken a look at some of the bottled salad dressing ingredients lately?  Here is an ingredient list from a typical ranch dressing on the store shelves…
Yikes!  Sugar is #4 on the list and salt is #5.  This one even has some Monosodium Glutamate or MSG.  Pull out one of yours in the fridge and see what's listed on the ingredient label.
So, how do you avoid these not-great-for-you ingredients and additives?  Make your own!  Salad dressing is one of the easiest things to throw together.  Truly.  No cooking required and it takes just a few minutes.  Just toss some ingredients in a blender or food processor and voila you have a delicious homemade dressing – all natural – without a bunch of extras you and your body don't need.  These are a couple I love!
This is one I played around with until I got it just right.
5 Minute Honey Dijon Vinaigrette
Ingredients: 
1/4 cup balsamic vinegar
1/4 cup extra virgin olive oil or canola oil
1 Tbsp. Dijon mustard
1 Tbsp. honey
1 clove minced garlic
A handful of fresh Italian flat-leaf parsley
1/4 tsp. salt
Fresh ground pepper to taste
Directions: 
Add all ingredients to a blender or food processor.  Blend well.  Enjoy!
Makes approximately 7 Tbsp.
Nutrition Information (Per tablespoon):
84 calories; 8 g total fat; 0 mg cholesterol; 137 mg sodium; 3.5 g carbohydrates; 3 g sugar
Buttermilk Ranch Dressing
Ingredients: 
1/2 cup buttermilk
1/4 cup reduced-fat mayonnaise
2 tablespoons champagne or white-wine vinegar
1/2 teaspoon chopped garlic
1/2 teaspoon salt
1/2 teaspoon pepper
1/3 cup chopped fresh herbs, such as chives, tarragon, basil or dill
Directions:
Whisk buttermilk, mayonnaise, champagne (or white-wine) vinegar, garlic, salt and pepper in a small bowl until smooth. Stir in herbs.
Nutrition Information (Per tablespoon):
16 calories; 1 g total fat ( 0 g sat , 0 g mono ); 1 mg cholesterol; 1 g carbohydrates; 103 mg sodium; 17 mg potassium