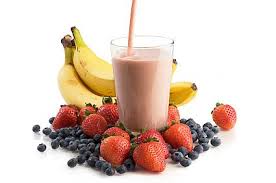 Warmer weather has arrived!  To celebrate, my girls and I have been enjoying smoothies.   Smoothies are a great way to pack in more fruits – and even veggies – to yours and the kids' or grandkids' diet.  They are a great on-the-go snack or even breakfast because they take mere minutes to whip up and make the perfect cool-down treat for Summer.
You can squeeze in fruits and veggies and other good-for-you things like flax-seed (a great source of healthy omega 3 fats, antioxidants, and fiber) that your kids would normally scoff at.  My almost 1st grader does not do blueberries…even in her pancakes.  Recently I decided to sneak a few into her smoothie.  I served it up, with bated breath, and what do you know, she gobbled it up!  That is the beauty of smoothies, you can throw in things that you might not love to eat on their own, but they work in a smoothie.
If you and your family are already regular smoothie drinkers, you might try adding in some super healthy greens, such as spinach or kale.  One Mom told me she calls her green smoothie "The Incredible Hulk" and her kids love it!  Kids are much more apt to try something new if you can present it to them in a fun, exciting way.
Here is our family's tried and true smoothie recipe.  Try mixing up your fruits and get the kids involved in picking what they might like.  Some other great choices would be any kind of berry, mangoes, kiwi, peaches, pineapples, apples. Really anything goes!  Hope you and your family enjoy these as much as we do.  Happy Summer!
Ingredients
1 cup vanilla Greek or regular yogurt
3/4 -1 cup frozen strawberries (or a mix of other frozen berries and fruit)
1 large banana, cut up
1 Tbsp ground flax-seed
about a 1/2 -1 cup skim milk, add to desired consistency (I also use coconut water as the liquid sometimes)
Preparation
Combine yogurt, strawberries, banana, and flax-seed in blender.  Add milk to desired thickness.  Blend well.
Servings per recipe:  3
Nutrition Information:
Calories:  162   Fat:  1.6 g   Saturated Fat:  0.5 g   Cholesterol:  6.5 mg
Sodium:  93 mg    Potassium:  483 mg   Carbohydrate:  32 g   Fiber:  3 g   Protein:  7 g