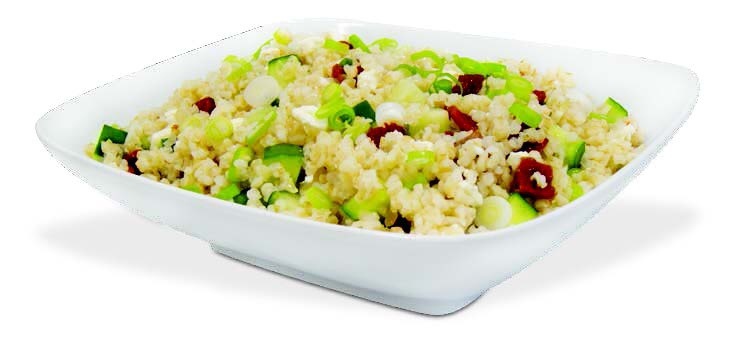 Looking for ways to include more whole grains and get out of your same old side dish rut? Try bulgur! Bulgur is wheat kernels that have been steamed, dried, and cracked, so you get all the goodness and hearty flavor of wheat berries in just 10 minutes.
Ingredients:
¾ cup bulgur
1 Tbs. extra-virgin olive oil
½ hothouse cucumber, diced
¼ cup sun-dried tomatoes, diced
3 scallions, thinly sliced
½ cup reduced-fat crumbled feta cheese
2 Tbs. lemon juice, more to taste
Freshly ground black pepper
Directions:
• In a small pot, bring 1½ cups of water to a boil. Stir in the bulgur, turn off the burner, and cover the pot. Allow the bulgur to steep for 10 minutes, then drain and put into a large bowl.
• Toss the bulgur with the oil, then stir in the cucumber, sun-dried tomatoes, scallions, and feta. Season with the lemon juice and plenty of pepper.
Serves 4.
Nutrition Information Per Serving: Calories: 180, Sodium: 260 mg, Total Fat: 7 g, Saturated Fat: 2 g, Carbohydrates: 24 g, Protein: 8 g, Fiber: 6 g
Source: NutritionAction.com