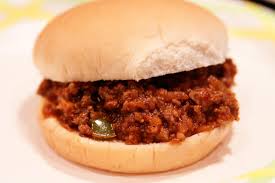 Who needs those canned versions of Sloppy Joes? This is an easy to prepare homemade version that you and your family will love. You could also substitute ground turkey or soy crumbles for the ground beef.  Serve it up with your favorite veggie – maybe a salad – and some oven roasted sweet potato fries and you have an easy, quick, delicious meal ready to go!
1/2 cup chopped onion
1/2 cup chopped red bell pepper
1 pound lean ground sirloin
1/4 teaspoon salt
ground black pepper to taste
1/2 cup ketchup (I use Simply Heinz)
2 Tbsp water
1 1/2 teaspoons brown sugar
1/2 teaspoon garlic powder
1 teaspoon prepared yellow mustard
Whole wheat rolls (Publix has good ones)
In a medium skillet over medium heat, sauté the onion and red pepper. Add the ground beef, season with salt and pepper, cook until browned; drain off liquids.
Stir in the ketchup, water, brown sugar, garlic powder, and mustard.
Serve on whole wheat rolls.
Nutrition Information:
Calories: 250   Fat: 12 g   Saturated Fat: 4.5 g   Cholesterol: 70 mg    Sodium: 425 mg   Carbohydrates: 12 g   Fiber: 0.5 g   Protein: 22 g