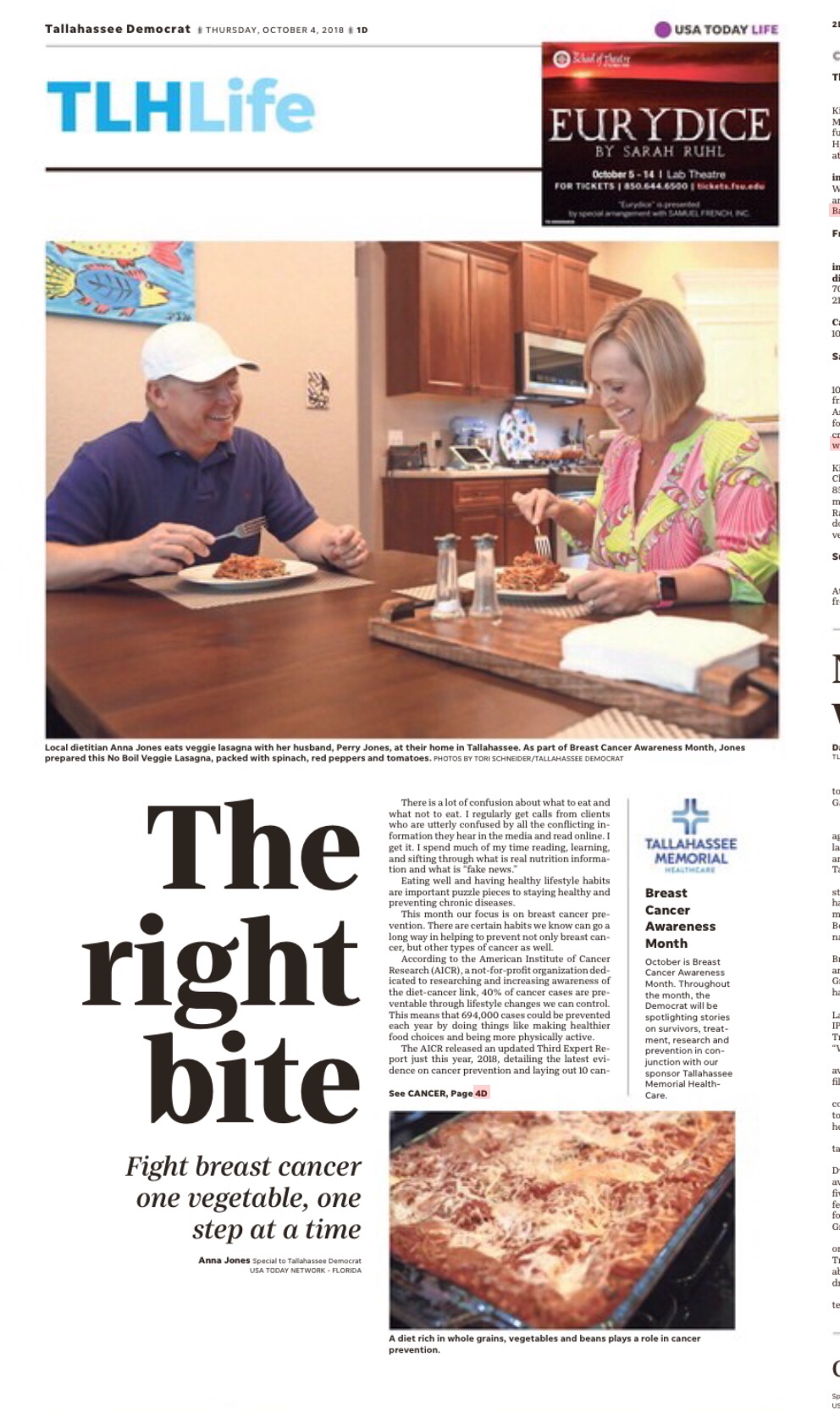 In case you missed it in today's Tallahassee Democrat – https://www.tallahassee.com/story/life/food/2018/10/03/fighting-breast-cancer-one-bite-one-step-time/1503078002/- here is my article all about preventing breast cancer with nutrition and positive lifestyle habits…
There is a lot of confusion about what to eat and what not to eat.  I regularly get calls from clients who are utterly confused by all the conflicting information they hear in the media and read online.  I get it.  I spend much of my time reading, learning, and sifting through what is real nutrition information and what is fake news.
Eating well and having healthy lifestyle habits are important puzzle pieces to staying healthy and preventing chronic diseases.  This month our focus is on breast cancer prevention.  There are certain habits we know can go a long way in helping to prevent not only breast cancer, but other types of cancer as well.  According to the American Institute of Cancer Research (AICR), a not-for-profit organization dedicated to researching and increasing awareness of the diet-cancer link, 40% of cancer cases are preventable through lifestyle changes we can control.  This means that 694,000 cases could be prevented each year by doing things like making healthier food choices and being more physically active.
The AICR released an updated Third Expert Report just this year, 2018, detailing the latest evidence on cancer prevention and laying out 10 cancer prevention recommendations based on the most reliable scientific evidence currently available.
AICR's 10 Cancer Prevention Recommendations:    
1. Maintain a healthy weight (achieved by following recommendations 2, 3, 4, 6, and 7).
2. Be physically active.
3. Eat a diet rich in whole grains, vegetables, fruits, and beans.
4. Limit consumption of fast foods and other processed foods high in fat, starches or sugars.
5. Limit consumption of red and processed meat.
6. Limit consumption of sugar sweetened drinks.
7. Limit alcohol consumption.
8. Do not use supplements for cancer prevention.
9. For mothers: breastfeed your baby, if you can.
10. After a cancer diagnosis: follow these same recommendations
Although each of these recommendations is important, for the purposes of this article I have picked a few to focus on and provide some help in incorporating them into your lifestyle.  Based on the AICR's recommendations, here are my top 5 recommendations for breast cancer prevention.
1. Eat more fruits and vegetables.  I wonder, do readers of my blogs/articles get tired of hearing me give that advice?  There's good reason why it is a repetitive recommendation.  While there is a lot of confusion and differing opinions on what is the best way of eating for health, especially for weight loss, there is no disputing that eating more fruits and vegetables can improve our health.
I have a confession, I haven't always loved fruits and vegetables.  Yes, I said it, the Dietitian doesn't just naturally love fruits and veggies.  So, I have had to really make a conscious effort to find the ones I do like and cook and prepare them in a way that works for me.  Now eating them at every meal is just part of my life.  If you need to mix them in with things, then go for it.  If you prefer them raw over cooked great.  Whatever works for you.  Just know that if you are looking to make positive changes in your diet, whether it is for general health, weight, or breast cancer prevention, working in more fruits and vegetables is always a positive thing.
Serving wise the recommendation for cancer prevention is to get around 5 or more servings per day, equal to about 2 ½ cups (or a little more if you are including raw leafy greens.)  One serving is equal to 1 cup of leafy greens, ½ cup raw or cooked fruits or vegetables, or a piece of fruit about the size of a tennis ball.  In my experience seeing clients, many of us aren't getting anywhere close to that 5 or more servings each day.  A good goal to make is to become conscious of getting at least some fruits or vegetables at each meal, including breakfast.  Then once you have that down, you might try to squeeze them in at snacks in between meals.
Don't let the 5 servings intimidate you.  Most of us just need more than we are currently getting.  We know they are beneficial for health.  How can you get more?
2. Eat more plant foods in general, and less meat, especially red and processed.  You might have heard talk of the recommendation to eat a more plant-based diet, sometimes referred to as vegetarian or vegan.  A plant-based diet can be vegetarian or vegan, meaning meat free, but doesn't necessarily have to be.  It is a diet that is centered around not only fruits and vegetables, but also whole grains, beans, peas, lentils, nuts, and seeds.  This recommendation stems from our well supported knowledge about plant foods and their ability to prevent not only breast cancer and other types of cancer, but other chronic diseases such as heart disease.  Plant foods are good sources of phytochemicals, which are naturally occurring substances that help protect cells in the body from damage than can lead to cancer.  Eating more plant foods can also help to maintain a healthy weight because most of them are low in calories, but very filling due to their high fiber content.
When I was growing up meals were planned around whatever the meat was for the meal.  I think that is often the way we think about meal planning even now. A healthy shift would be to consider the plant-based part of your meal first and plan the meat, if you choose to include one, second.  I work with clients on simply making more balanced plates for a healthier overall diet.  At meals a good goal is to make ¾ of your plate plant based, with ¼ being protein or meat.  Many of us have the makeup of our plates all wrong.  One tool that can help, that I tell clients about all the time, are the portion control plates made by a company called Precise Portions.  You can find them online.  They can not only be helpful in shifting to including healthier foods on your plate but can also help with managing portion sizes too.
3. Limit added sugar and processed starches.  Added sugars are abundant in our food supply, found in many processed boxed or bagged products, sweetened drinks " not just sodas, but teas, coffees, energy drinks, and sports drinks too, and of course in desserts candy, ice cream, cookies, cakes, pies, etc.  There are even added sugars in things that don't even necessarily taste sweet.  Processed starches are widely consumed in white pasta, white rice, white and pseudo wheat bread, and crackers, and really have the same impact on our bodies as sugary foods and drinks.
The main impact sugar and processed starches have on cancer risk relates to blood sugar, insulin levels, and weight gain. Foods and drinks in this category are a significant source of excess calories, which we know contributes to being overweight/obese " a major risk factor for breast cancer. There is more going on than just the excess calories though.  When we eat sweet and starchy foods our bodies convert them to glucose.  In response, our pancreas releases insulin, a hormone that is like a key that unlocks our cells and allows our body to convert the glucose from these foods into usable energy.  Unfortunately, when we become overweight our bodies can become insulin resistant, where our cells no longer recognize that key which makes it harder for cells to use glucose as fuel.  Over time this malfunctioning of glucose and insulin further contributes to weight gain and fat storage. It is a vicious cycle and eating and drinking sugary foods and drinks and processed starches only compounds the problem.
So, how do you cut back?  Start to become aware of how much sugar is in the foods and drinks you are consuming.  Look at labels or look up restaurant foods online.  Make small changes to reduce the sugar, by choosing healthier products and by eating real foods most often " like fruits, vegetables, beans, and whole grains, and nuts instead of foods that are in boxes or bags. An app called Fooducate is great for helping you become more informed about the foods you are eating and gives options for healthier alternatives.
4. Limit alcohol consumption. Although the most popular take on alcohol is that it is good for our hearts and protects us from cardiovascular disease, the same is not true for cancer prevention.  There is strong evidence that alcohol in any form or amount is a carcinogen and is linked to 6 different types of cancer, including breast cancer.  For many, who love their wine or craft beers, I know that this is hard information to swallow, especially during football season.  But, the evidence is very clear, there is no safe level of alcohol for prevention of cancer.  If you choose to drink, moderation is key, and for many is a struggle.  Moderate intake is one drink per day for women and two per day for men.
5. Move more.  Often, we equate physical activity or exercise simply to burning calories.  While it is true, of course, that exercise burns calories, there are a host of other things going on physiologically that make moving more beneficial for overall health and for the prevention of breast cancer.  These include lowering levels of hormones such as insulin and estrogen, reducing inflammation, and improving immune system function.  Physical activity also improves insulin sensitivity, allowing insulin " that hormone that acts like a key that unlocks our cells so that we can use glucose as fuel – to work better, important for the reasons discussed in #3.  So being physically active is about way more than burning off those extra calories you ate.  A 2013 review of 31 prospective studies showed a clear relationship between being physically active and the reduction of breast cancer.  The evidence for the protective effect of activity against breast cancer is especially strong in postmenopausal women.
How much activity should you aim for?  At least 2 ½ hours per week of moderate-intensity aerobic activity or 1 hour and 15 minutes of vigorous-intensity is known to have significant health benefits.  Moderate-intensity activity includes brisk walking, water aerobics, and doubles tennis and vigorous activity includes jogging or running, swimming laps, singles tennis, and aerobics.
Strength building activities are also beneficial.  Muscle is more efficient at using glucose, our body's main source of fuel, so having more is better.  We naturally lose muscle as we age so including some muscle building type exercises at least a couple times a week is a good thing.  The best plan for exercise is to include both aerobic and strength activities, but if you aren't currently active just moving more in any way, even in 10-minute increments, throughout the day, can have a big impact.
How to eat and the lifestyle changes we need to make to prevent breast cancer, other cancers, and many other chronic diseases is not a mystery.  We know through tireless research done by organizations committed to cancer prevention, like the AICR and the World Cancer Research Fund, exactly what to do to significantly decrease our risk of breast cancer.  Now it is up to us to just do it.  I encourage clients to start by choosing 2-3 very specific things they want to work on and focus there.  Maybe for you those are things I have mentioned here in this article.  If so, write them down and put them into practice today.
No Boil Veggie Lasagna
One of my favorite ways to include vegetables is to squeeze them into recipes that don't normally have very many or any.  Lasagna is the perfect example.  It can be just meat sauce, white noodles, and cheese, or it can be packed with veggies, whole wheat noodles and be not only delicious and filling, but good for you too-my favorite kind of food.
Boiling lasagna noodles is a pain, so that's why I don't do it.  They cook just fine in the oven while it bakes.  The key is having enough sauce or liquid for them to cook.  If you don't like the veggies I use here, feel free to mix it up and include whatever veggies you prefer.  Squash, zucchini, and carrots would all be great substitutions. The great thing about lasagna is that it gets better by days two and three, or if you can't eat it all, it freezes well too.  Serve with a simple salad and you can get most of your recommended servings of vegetables all in one meal.
Ingredients
1 cup chopped onions (I buy Publix brand frozen chopped onions to save time)
2 teaspoons extra-virgin olive oil
2 cloves minced garlic (about 2-3 teaspoons)
1 8 oz. container fresh mushrooms rinsed and sliced
12 oz. jar roasted red peppers, drained and cut into ½ inch pieces
1 teaspoon Italian seasoning
½ teaspoon salt
Freshly ground pepper
26.46 oz. carton Pomí strained tomatoes (or a 28 oz. can of crushed tomatoes)
14 ½ oz. can diced tomatoes
A dash of Worcestershire sauce
1 cup jarred marinara sauce (I like Victoria, Rao's, or Cucina Antica Tomato Basil" available at Target)
15 oz. container Part Skim ricotta cheese
½ cup parmesan cheese
2 eggs, beaten
1 box frozen chopped spinach, thawed and squeezed to remove excess liquid
1 ½ cups mozzarella cheese
1 13.25 oz. box Barilla Whole Grain Lasagna Noodles, uncooked (You'll use 12 of the noodles)
Directions
Preheat oven to 350.  Lightly spray a 13 x 9-inch baking dish with cooking spray.  Heat olive oil in large skillet over medium heat.  Add onion and cook, stirring occasionally until translucent.  Add garlic, mushrooms, chopped roasted red peppers, Italian seasoning, salt, and pepper and continue to cook for about 5 minutes, stirring occasionally.  Add can strained tomatoes, can diced tomatoes, dash of Worcestershire sauce, and 1 cup jarred marinara sauce.  Simmer for 15-20 minutes
While sauce cooks, mix together the ricotta cheese, parmesan cheese, and 2 beaten eggs, and spinach.  Stir until well combined.
Spread 1 cup sauce in 9 x 13 pan.  Place 4 of the uncooked lasagna noodles over sauce.  Spread ½ of the ricotta mixture over noodles, top with 1/3 of sauce (approximately 2 cups).  Repeat layering with 4 more lasagna noodles, the other ½ of ricotta mixture, and 1/3 of sauce.  Top with 4 more lasagna noodles and remaining sauce.  Sprinkle with mozzarella cheese.  Cover with foil.  Bake for 50 minutes.  Remove foil and bake an additional 5 minutes.  Remove from oven and let stand to cool for 10 minutes before serving.  Cut into 8 pieces.
Servings:  8
Nutrition Information:  
Calories:  386   Total Fat:  12 g    Saturated Fat:  6 g    Sodium:  625 mg    Carbohydrates:  46 g    Fiber:  9 g    Sugar:  13 g    Protein:  21 g
A Day's Worth of food for breast cancer prevention (1,700 calories and 8 servings of fruit, vegetables, and legumes)
Breakfast:
• ¾ cup high fiber cereal* such as Kashi ˜Heart to Heart' or Kellogg's All Bran Cereal with ½ cup blueberries
• 2 Tbsp slivered almonds/walnuts
• 1 Tbsp ground flaxseed with 1 cup plain soymilk or organic fat-free milk
Snack:
• 1 cup sliced raw veggies (carrots, celery, jicama, bell peppers, cucumbers)
• 6 small whole grain crackers
• 2 Tbsp hummus dip
Lunch:
• 3oz shredded chicken breast with 1 tsp Dijon, 1 Tbsp plain low-fat yogurt, ¼ tsp dill for an open-faced sandwich on 1 slice of whole grain bread (I love Dave's Killer Bread, thin sliced " at Publix)
• Pair with sliced apple and a small dark leafy green side salad with 1 Tbsp vinaigrette
Snack:
• ¾ cup non-fat cottage cheese or 8oz non-fat plain Greek yogurt with 1 Tbsp chopped walnuts
Dinner:
• 4oz broiled wild salmon with garlic, parsley, lemon juice, olive oil and a dash of sea salt and pepper
• ½ cup quinoa or other whole grain, like brown rice, farro, or orzo – made with low sodium vegetable or chicken stock and add 1 Tbsp pumpkin seeds and 1 Tbsp unsweetened dried cranberries or cherries
• 1 cup grilled or roasted vegetables (broccoli, asparagus, onions, carrots)
After dinner treat:
Enjoy 1 oz 60% cacao dark chocolate and 1 cup of green tea